An Evening of Gratitude: Lewis Katz School of Medicine Scholarship Donors and Students Celebrate a Bright Future
News
March 31, 2023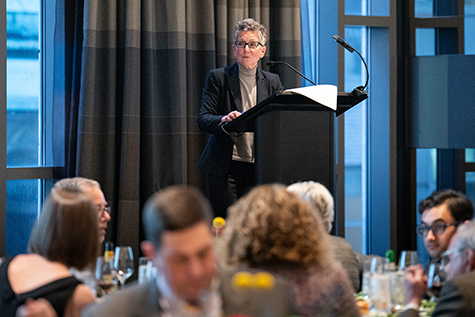 The Lewis Katz School of Medicine's Annual Celebration of Scholarship dinner on March 23 welcomed a ballroom full of generous donors and the students they support— inspired by a passion for the field of medicine along with the mission of Temple's medical school—to celebrate the philanthropy that brought their lives together. The evening unfolded as a feast of appreciation for the donors' help in easing the financial stresses on medical students as well as praise for Temple's mission of compassionate care, especially for the poor and underserved.
"That is what tonight's celebration is all about – gratitude," Amy J. Goldberg, MD, FACS, the Marjorie Joy Katz Dean of the Lewis Katz School of Medicine, told the 190 guests gathered at the dinner, held in the W Hotel in Philadelphia.
"Gratitude to our scholarship donors for the opportunities you create and the barriers you help to break down. Gratitude to our students for honoring these opportunities. And especially gratitude for what unites us — the strength of our community and the passion that drives us to make a positive difference."
A beloved annual event for the Katz school of Medicine, this year's celebration held historic meaning as the first since Dr. Goldberg's appointment as permanent dean in September, following her 18-month term in the interim role. A scholarship donor herself, having established a scholarship in memory of her late father Raymond Goldberg several years ago, Dean Goldberg understands firsthand the critical impact that scholarship support creates. As dean, it remains her top philanthropic priority for the school.
Nina Weisbord, Associate Vice President of Temple University Institutional Advancement and Chief Advancement Officer for Temple Health, shared numbers that showed continued momentum in raising donor funds for student scholarships.
Last year, she shared, donor-funded scholarships were awarded to 292 students, a dozen more than the year before. And the total disbursement in 2022 was $1 million more than in 2021.
"That growth has come directly from you and the culture of giving that you helped to build," she said.
The power of that generosity and its ripple effect on the lives of burgeoning physicians – and the patients they will ultimately serve - was made clear when three medical students who had received scholarships, and the daughter of the late Joseph S. Torg, MD '61, a renowned orthopedic surgeon and pioneer in sports medicine, took turns at the podium to share their reflections.
First was Ivana Kohut, a medical school senior whose mother is a Cuban exile and whose father was an orphan raised in foster care. Ms. Kohut spoke of the gift of not having to work during medical school and how that effectively bought her time to work on projects that helped others. Looking ahead, she hopes to find funding and organize U.S. physicians to train rural physicians in Cuba in the use of Point-of-Care ultrasound devices, a modern diagnostic tool.
Ms. Kohut found out on March 17 that she matched at Brigham and Women's Hospital in Boston for a residency in Internal Medicine. After thanking the donors for helping her to pursue her dreams, she reflected on why she appreciated her experience at the medical school.
"Being Temple-Made," she said, is "about giving your all — whatever that looks like— in celebration of life, of community, of people. Thank you for that very generous reminder."
Next up was Steven Segarra, a third-year student, who told of growing up in a low-income community in the Dominican Republic. He said compassionate and skilled ophthalmologists had provided him care for a devastating eye injury, and that care had inspired him to pursue a career in medicine.
"I wanted to make a difference in the lives of those who may not have access to quality health care. I saw the impact of lack of resources firsthand and asked myself, 'Why does the best care go to the wealthiest people?'" he said.
"My mission as a soon-to-be doctor is to support and transform the livelihood of underprivileged patients," he said. "Temple, with its unique position in providing world-class care to the underserved communities in North Philadelphia, allows its students to jump straight into the fire and learn how to offer that support from very early on."
Finally, fellow third-year student Nate Tang spoke of his life being "challenging yet so rewarding, knowing I have people like you and many others behind me. Ultimately, I believe that my purpose on Earth is to put the needs of others before my own, to serve those who are less fortunate and to be a light in the darkness, evil, and negativity that so heavily permeates our society today. "
He promised the donors that he would honor their investment in him "by doing the same for others. One day, I hope to be sitting where you are now, a proud scholarship donor to the Lewis Katz School of Medicine."
In her reflection, Elisabeth "Betsy" Torg spoke of her father's love for Temple's medical school and hospital, and highlighted the difference that scholarships from William Penn Charter School, Haverford College and the Lewis Katz School of Medicine had made in his life.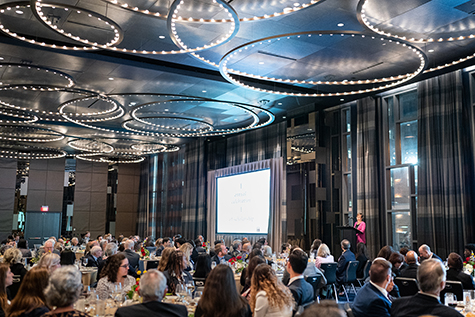 Dr. Torg rose to national and international prominence for his ground-breaking research and advocacy in preventing sports injuries. The emeritus faculty member passed away in December at age 88.
"The scholarship my dad received to come to Temple medical school impacted his own life, and importantly, impacted the field of medicine and sports in significant and noteworthy ways," she said.
Among multiple initiatives to give back, Dr. Torg and his wife, Barbara, created the Joe Torg, MD Endowed Scholarship Fund which underwrites full tuition scholarships for those who hail from backgrounds similar to his own — bright students from economically deprived families who attended public, private or parochial schools in Philadelphia.
Ms. Torg closed her remarks by reminding the donors of the possible exponential power of their own gifts.
"Right now, the scholarship student you fund may be a young, energetic, wanna-be doctor just getting started. And yet who knows how far their career will go? Who knows how many lives they will touch, how many lives they will save?
"What we do know is that in funding one scholarship, you have already made a significant difference in the life of one person, and from there, the possibilities are infinite."
---
To make a gift in support of scholarship at the Lewis Katz School of Medicine, visit giving.temple.edu/givetomed.
For information about establishing a scholarship fund, contact the Office of Institutional Advancement.