Temple Believed in this Aspiring Physician. Now was the Time to Give Back.
News
July 06, 2022
Ask Edward C. Rabbitt, MD '79, of Alexandria, Va., what is rewarding about his practice as an orthopaedic surgeon and he's quick to tell a story about a 68-year-old man he had recently seen in his office.  
"Over the last 15 years, I've replaced both of his hips. And he told me today how much he was grateful to me because I really got his life going again," Dr. Rabbitt said. "Before the surgeries, he was in pain all the time and couldn't do anything physically. So those are the types of things that are gratifying, when you can have a positive effect on your patients' lives." 
For more than four decades, Dr. Rabbitt has been able to make a difference in people's lives, and now he and his wife, Eileen Horan Rabbitt, are making a difference at Temple University's Lewis Katz School of Medicine. The school gave him the opportunity to pursue his career in medicine, and over the years they have often spoken about their wish to give back to Temple. Finally, the time was right. 
Dr. and Mrs. Rabbitt recently made a $1 million cash commitment to the medical school, creating the Rabbitt Family Endowment for Medical Education. The endowment will be used to support educational priorities within the school, with funds initially earmarked for cutting-edge innovation in simulation-based education.   
"Temple gave me the chance I needed to become a physician, and that has allowed me to have a very good career," Dr. Rabbitt said. "We were at a point where we felt that most of our responsibilities to our family and our three children had been met financially. And we had money that we thought we could use as a gift. That's why we decided to give the money to Temple," he said. 
Mrs. Rabbitt, who has retired from her job as speech pathologist in Alexandria public schools, said she recalled several conversations with her husband about possibly making a gift. 
"Just listening to Ed over the years and talking with him, I think he always had a desire to give back to Temple if he was able. He's been very aware of the opportunity afforded to him, and has gratitude for that, and thinks his education at Temple was uniquely superior. So that's always been in his mind and now we're turning toward that type of use of our money. It's great," she said. 
In May, Dr. and Mrs. Rabbitt toured the William Maul Measey Institute for Clinical Simulation and Patient Safety (ICS) at the medical school, where health profession learners and practitioners can enhance their clinical decision-making skills and practice the skills needed to care for patients. Procedural task trainers, virtual reality trainers and high-fidelity patient simulators create realistic case scenarios that enable participants to learn from and with one another. Medical students, interns, residents, nurses and physicians all benefit from experiences in the ICS and are able to advance their work caring for patients as members of health care teams.   
"We are incredibly thankful to Ed and Eileen Rabbitt for this generous gift, which will allow the ICS to greatly expand the training tools and the curricular program we offer our students," said Amy J. Goldberg, MD, FACS, Interim Dean of the Katz School of Medicine. "Before they perform a procedure on a live patient, they will have sharpened their skills on patient simulators." 
Maryellen E. Gusic, MD, Senior Associate Dean of Education, said the school is committed to being a leader in providing medical students with the latest innovations in education. "This gift will support our ability to prepare our learners for future practice using the most up to date teaching tools and state of the art curricula," she said. 
Among the skills students can practice on procedural task simulators are pelvic exams, arterial blood gas collection, urethral catheterization and ultrasound-guided central line insertion.   
After touring the Institute with Dr. Goldberg in May, the Rabbitts were  impressed with the teaching taking place there. Having already dedicated their generous gift to the benefit of medical education, it cemented their interest in the institute. "I thought it was a very good place for us to devote our funds, for them to be able to continue to build that program," said Dr. Rabbitt.   
"When I was in medical school, we would work in the hospital, perform procedures and learn how to do things," he said. "This ICS gives students, interns and residents the ability to learn, practice and hone the skills that I think it takes to be a successful physician before they perform the tasks in a patient setting." 
-- 
Both Dr. and Mrs. Rabbitt grew up in Pennsauken, N.J., but did not meet until near the end of their college years. Mrs. Rabbitt graduated from the College of New Jersey, located in a suburb of Trenton. Dr. Rabbitt graduated from Lafayette College in Easton, Pa., with a degree in biology. 
Though he was always proficient in science and math, achieving good grades in his freshman year of college took a back seat "to playing basketball and enjoying a social life," he said. "I had to put that in my taillights. Temple saw through that and was nice enough to admit me. I was able to perform well enough in class to the point where I got an orthopaedic residency."  
Dr. and Mrs. Rabbitt married in the middle of his second year of medical school. They recalled borrowing the money to pay for his tuition and living off her salary as a speech pathologist for the School District of Philadelphia. 
Dr. Rabbitt completed his internship at Temple University Hospital in 1980 and his orthopaedics residency at MedStar Georgetown University Hospital in 1984. Board-certified, he is in practice at the MedStar Orthopaedic Institute and provides care to patients in metropolitan Washington, D.C., northern Virginia, and southern Maryland.  
Asked what drew him to a career in medicine, he answered: "I enjoy the interaction with patients, and I enjoy helping people."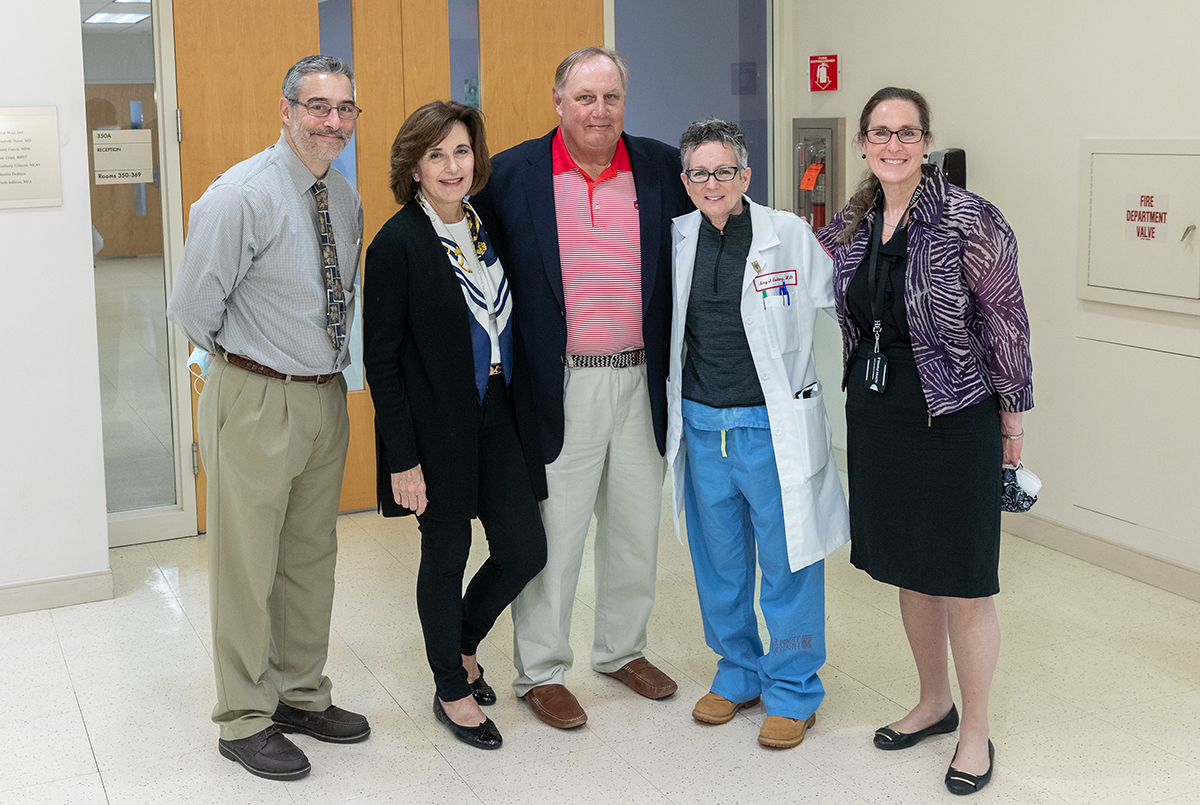 The gift Dr. and Mrs. Rabbitt made will have a direct impact, according to Nina Weisbord, Chief Advancement Officer, Temple Health.   
 "This is a truly meaningful gift for Temple. Cash gifts allow for immediate impact, and endowed funds ensure permanent support for the future," she said.  
When considering their decision to make this gift, Dr. and Mrs. Rabbitt were inspired by the stories of other gifts that have been made to Temple throughout the years. Similarly, they hope that their story will inspire others to pay it forward and give back to their alma mater. Asked what he might say to other physicians who are considering making a major gift to the Katz School of Medicine, Dr. Rabbitt returned once again to the theme of gratitude. 
"Temple gave everybody in our class the opportunity to pursue one of the most important occupations in our society," he said. "By and large people in our profession do well financially and they need to give some thought to how they got their start, and perhaps give back for the opportunities they were afforded." 
Make a Gift to support Innovation in Medical Education
---
Bottom Photo Caption: L-R: David A. Wald, DO, Medical Director, William Maul Measey Institute for Clinical Simulation and Patient Safety; Eileen Rabbitt; Edward C. Rabbitt, MD '79; Amy. J. Goldberg, MD, FACS, Interim Dean; Maryellen E. Gusic, MD, Senior Associate Dean of Education
- Lillian Swanson