Opening Doors to Excellence
News
October 17, 2022
Philanthropy opens doors.  A mission underpinned by generosity creates new opportunities and enriches and enhances existing ones. Donor support across the Temple Health enterprise expands access to exceptional medical education programs, drives discovery and advances in medicine through research, sustains programs that provide critical support for our neighboring communities and reinforces our ability to provide the highest standard of care to all who need it―creating a brighter tomorrow through an investment in today.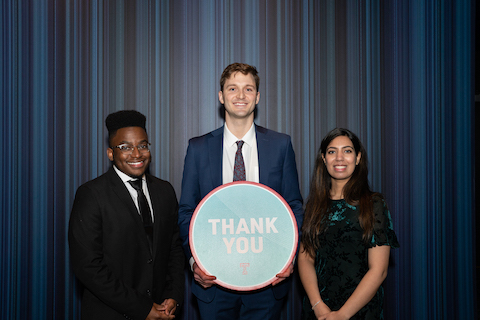 Last fiscal year, philanthropic investment across Temple Health surpassed $65 million. A banner year, support for the Lewis Katz School of Medicine, Temple University Hospital, Fox Chase Cancer Center and the broader health system accounted for more than half (55 percent) of Temple University's nearly $115 million fundraising total for fiscal year 2022 (July 1, 2021–June 30, 2022). Many people came together―alumni, friends, grateful patients, corporate supporters, research and community program grant makers, greater Philadelphia's philanthropic leaders and many more―in vibrant endorsement of Temple's present work and bold vision for the future.
"Our donors are a reflection and extension of our incredible Temple Health community. Their passion and purpose resonate with the work we do, the excellence we define and the disparities we seek to dismantle," said Nina Weisbord, Chief Advancement Officer for Temple Health and associate vice president for Temple University. "They play a central role in all that we have achieved, and we are so grateful for their financial support, leadership and continued commitment to the Temple mission.
With gifts reaching $36.3 million, the largest annual philanthropic total to date, the Lewis Katz School of Medicine celebrated a historic year. Scholarship support remained one of the school's―and its donors'―top philanthropic priorities. Ten new donor-funded scholarships were created in FY22, with more than $9.3 million raised overall for scholarships and fellowships, including two $2+ million and two $1 million commitments. Donor investment in scholarships enables students to pursue an education at Temple regardless of their financial circumstances. It also helps the school develop a community of future physicians motivated to give back.
"The support that I have received here at Temple is unparalleled," said scholarship recipient Kenneth Jordan, MD Candidate 2024. "A school whose values about healthcare visibly match its efforts in the community and in our education. Wow, what a blessing. This scholarship is yet another example of Temple's commitment to creating a new, diverse generation of doctors to revolutionize healthcare." 
Access to educational excellence was also supported by donor investments in curricular advancements and exceptional teaching. These investments included $1 million to establish the John M. Daly, MD '73, and Measey Foundation Endowed Professorship in Medical Education Innovation, honoring the late Lewis Katz School of Medicine dean Dr. John Daly; and a gift from Edward C. Rabbitt, MD '79, and Eileen Horan Rabbitt, creating the Rabbitt Family Endowment for Medical Education. Backed by donor support for the second year in a row, Temple marshalled pioneering force for innovation in technology, providing incoming classes of medical students with their own point-of-care ultrasound devices.
The largest research grant of the year was awarded by the Patient-Centered Research Outcomes Institute, a $5.3 million award to fund research into Black maternal health―highlighting the school's leadership in advancing research and practice with a focus on equity in medicine.
"Philanthropic support for the Lewis Katz School of Medicine is not just an investment in the future. It impacts our students, researchers, educators and the community today and every day," said dean Amy J. Goldberg, MD, FACS, appointed to the position in September following her outstanding leadership in an interim role. "The incredible generosity of our donors and their unwavering commitment to our mission, resoundingly reinforce that there is no limit to what we can achieve together. My gratitude is unmatched."
Support for Temple University Hospital (TUH) reached $7.8 million last year, outpacing the goal for the second year in a row. TUH is rooted in the foundational principle of providing access to best-in-class care for all who need it, and gifts from both private individuals and foundation and corporate supporters reflected their shared dedication to this mission―and to its expansion.
Temple acquired a new campus in Philadelphia last year with plans to dedicate it to women's health. Donors stood behind the effort as a singular opportunity to address the disturbing health disparities that Black patients and their new babies face. A principal $1.3 million philanthropic grant from the Percival Roberts Trust named the expanded Neonatal Intensive Care Unit (NICU) in the new women's hospital, and an additional $165,000 was raised for the new campus during the special appeal at the hospital's annual Acres of Diamonds Gala on May 7.
The Gala returned in person for the first time since 2019, welcoming nearly 1,100 guests. The event raised more than $1.3 million in total support for TUH and honored the Graduate Medical Education program with the Diamond Award.  
Among the other principal gifts supporting TUH this year were $1 million to support the Temple Lung Center's COPD Program at TUH–Main Campus; $1 million to support the Kay and Hale Trotter Gynecologic Oncology Fund at TUH–Main; and $1 million added to an existing $3 million bequest to support the Section of Cardiology at TUH-Main. The Episcopal Health Care Foundation also continued its sustaining and generous support with a $1.1 million gift to Temple University Hospital - Episcopal Campus.
"In addition to making an impactful investment in our outstanding clinical care, our momentum in philanthropic support is a bellwether for Temple's unyielding upward trajectory," stated Michael A. Young, President and CEO, Temple University Health System. "We are incredibly proud of our work, and grateful for the generous support that reflects and helps amplify our excellence."
Fox Chase Cancer Center also celebrated a banner fundraising year in FY22, again exceeding goal and raising $21.3 million from 11,000+ donors for new programs, expanded offerings, and more cancer research―all of which translates to more possibilities, more hope for patients and their loved ones.
The 2021 In Vino Vita (IVV) Benefit and Wine Auction at Fox Chase raised more than $1.7 million in-person at the National Constitution Center, following a successful virtual event in 2020. Gifts to IVV 2021 purchased a mobile screening unit, advancing Fox Chase's leadership in cancer prevention and early detection with updated technology and greater capacity. Longtime corporate partner West Pharmaceutical Services, Inc., contributed a generous donation of $500,000 toward this important project. The new vehicle will double the team's community screening capacity in 2023.
Donor generosity has changed the landscape of opportunity for students, researchers, and patients, providing incredible momentum across the Temple Health enterprise to break down barriers and greater access to excellence.
- Alice Emerson