Meet our CA-1 Residents
Nisha Branch
Dr. Nisha Branch, is a dedicated professional providing compassionate care, with a goal to facilitate a positive operative experience for patients. She completed her undergraduate degree at The University of Virginia, and received a Masters of Public Health in Epidemiology from the George Washington University. She then went on to complete her medical degree at Howard University College of Medicine where she was also the National President of the Student National Medical Association. Dr. Branch completed two years of General Surgery training at Howard University Hospital, and before joining Temple, she worked in Orthopaedic Surgery at New York Presbyterian.  Raised in the suburbs of Philadelphia, Dr. Branch has returned home to complete her Anesthesia training at Temple.  She enjoys carpentry projects, traveling, watching movies, and spending time with friends, family, and her dog, BJ.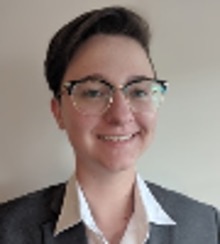 Jil Decker
Dr. Jil Decker is a New Jersey native who has taken the scenic route to their home in the Anesthesiology department at Temple. Jil spent almost a decade in Newark, New Jersey, where they attended college at New Jersey Institute of Technology and medical school at Rutgers New Jersey Medical School. There, they were inspired by their patients and mentors to pursue research and advocacy in healthcare and education for underserved and minority populations. They spent a year pursuing a Distinction in Research at University of Minnesota, where they concentrated their efforts on the care of transgender youth. They completed an intern year in Obstetrics and Gynecology at Rutgers New Jersey Medical School, followed by two years in General Surgery at University of Connecticut. They couldn't be more excited to be finishing their residency journey at Temple University, where they've now finished an intern year in Internal Medicine and look forward to completing their training in               Anesthesiology. Outside of work, they enjoy spending time with friends, family, and their cat, Snoop.
Pefecto Galido
Dr. Perfecto Guinto Galido III was born in Northeast Philadelphia and raised in North Wales, PA. He completed his undergraduate degree in biology at Drexel University in West Philadelphia. Before starting medical school at Lake Erie College of Osteopathic Medicine in Greensburg, PA, he worked as a medical scribe at an outpatient Hematology-Oncology clinic in Abington, PA while also working as an ER technician at level 1 trauma center at St. Mary's Medical Center in Bucks County, PA. He completed his internship/transitional year with Rowan's School of Medicine in New Jersey. He has joined Temple University Hospital this year to complete his three year anesthesiology training. Outside of the hospital he enjoys being with his family, traveling with his fiancee and dog, playing basketball, playing video games, going for hikes, watching anime, and working out. Fun fact: Temple University Hospital runs in his family! His father, Dr. Perfecto Galido Jr. completed his anesthesiology residency at Temple in 2002. His mother, Perla Galido, is a Temple PACU nurse that has been with the hospital for 20+ years. His aunt, Janet Guinto, is a Temple Pre-op nurse.
Andrew Harrison
Dr. Andrew Harrison was born and raised in central New Jersey. He went to college at Rutgers University New Brunswick in New Jersey where he majored in physics and genetics. He then attended a joint MD-PhD program at Mayo Clinic in Minnesota. His PhD was in clinical research. The subject of his doctoral dissertation was automated sepsis detection and intervention. This research was performed with Critical Care at Mayo Clinic. He then went on to continue clinical informatics research with Critical Care at Mayo Clinic in a postdoc. After this he worked in the biomedical device industry. His hobbies include reading, massive road trips, and submission grappling.
Eileen Jin
Dr. Eileen Jin grew up in Albany, New York. She went to Dartmouth College for her undergraduate degree in chemistry and completed medical school at Georgetown University. She did her preliminary internship at Temple. In her free time, Eileen enjoys brunch with her friends, working out, and her cat, Whiskers. 
Francis Navarra
Dr. Francis Navarra is a Los Angeles native, non-traditional, and first-generation in every sense. He had previous aspirations of pursuing a career as a skateboarder but got his act together and attended several community colleges prior to transferring to the University of California at Irvine majoring in Molecular Biology & Biochemistry. He packed up his flip flops, board shorts, and skateboards and attended medical school at Georgetown where he was involved in the mentorship of students coming from a similar background. He enjoys the technical and molecular aspects of anesthesia and is interested in academia. He enjoys exploring the many restaurants and parks in Philadelphia with his wife and toddler-aged daughter.
Louise Ngo
Dr. Louise Ngo was born and raised in Philadelphia, PA. She received her bachelor's degree in Biology from Drexel University. She also completed the post-baccalaureate program Drexel Pathway to Medical School and, subsequently, received her medical degree at Drexel University College of Medicine. Her internship year was completed at Temple University Hospital in Internal Medicine. She enjoys playing video games, dancing, exploring new places and restaurants, as well as spending time with her family and two kitties.
Justin Penny
Dr. Justin Penny is a native of Trinidad & Tobago and has lived most of his life in Indianapolis, Indiana. He earned a M.D.-M.B.A. dual degree at the University of Louisville in Kentucky. He completed his Internship in Internal Medicine at Temple University Hospital. His interests include Academic Medicine, Business Administration and Population Health. He enjoys problem-solving, financial derivatives, entrepreneurship, spending time with family, and travelling.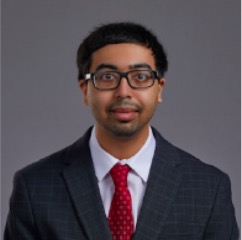 Hasan Rashid
Dr. Hasan Rashid is a native of Chicago, Illinois. He attended Benedictine University for his undergraduate education and obtained his medical degree from Rush University Medical Center. He completed his intern year in General Surgery at Rush University Medical Center and John H. Stroger, Jr. Hospital of Cook County prior to beginning his training at Temple. His hobbies include video games, music, and cooking. 
Faith Robinson
Dr. Faith Robinson is a New York City native, raised in the diverse immigrant community of Queens, NY. She attended New York University, where she obtained her undergraduate degree in Global Public Health/Health Sciences before going on to pursue her medical degree at Virginia Tech Carillon School of Medicine. There she completed a robust 4 year clinical research project exploring the novel application of ultrasound for minimally invasive treatment of fibroids entitled "Histotripsy for the Treatment of Uterine Leiomyomas: A Feasibility Study in Ex Vivo Uterine Fibroids." Most recently she completed her preliminary year in Internal Medicine at Temple University Hospital.Throughout her medical training, Dr. Robinson has maintained a keen interest in exploring the intersection between population health, epigenetics and healthcare utilization among underserved minority communities. When she is not thinking of ways to improve modern healthcare systems, she enjoys international travel, Pilates, aerial yoga, cooking and quality time with her miniature poodle.
Wilton Robinson
Dr. Wilton Robinson, Jr. is a native of Atlanta, Georgia. After receiving his undergraduate degree in Psychology at Morehouse College and Masters in Public Health at Columbia University, he completed his medical degree at Georgetown University School of Medicine. Before joining us at Temple, he completed his preliminary internship year in Internal Medicine at Morehouse School of Medicine. In his free time, he enjoys quality time with his family, sports, and exploring restaurants around Philadelphia.
Sohan Warusha
Dr. Sohan Warusha was born and raised in Sri Lanka and migrated to the US at age 12. His early exposure to poor healthcare in Sri Lanka motivated him to become a physician. He completed his undergraduate studies at the University of Maryland and completed his medical education at Georgetown University. Dr. Warusha loves growing orchids, maintains an aquarium, and runs a fantasy football league during his free time.