Meet the Faculty
Daniel Mueller, MD
Program Director 
I was born and raised in Green Bay, Wisconsin and attended the University of Wisconsin-Madison as an undergraduate.  Medical school interviews brought me to Philadelphia, and I was immediately drawn to Temple (now the Lewis Katz School of Medicine).  I packed up my Cheesehead, moved to Philly, and I've been here ever since.  After medical school, I completed my medicine residency, chief residency, and infectious diseases fellowship at Temple University Hospital.  I was fortunate to have the opportunity to join the Section of Infectious Diseases as faculty and to take on the role of Associate Program Director for the IM residency in 2016 with a transition to the role to Program Director in 2020. There are a number of reasons why I have become a Temple "Lifer:" our faculty is passionate about medical education, our trainees are enthusiastic about learning, and our patients have so much to teach us.  Above all else, we have the privilege of caring for the underserved community of North Philadelphia, which can be incredibly rewarding.  My professional interests include medical education, antimicrobial stewardship, and multidrug-resistant organisms.  Outside of work, I enjoy spending time with my family, playing the piano, trying out new restaurants, searching for places in Philly that serve cheese curds (if you aren't familiar with this amazing food, just ask me), and cheering on my Green Bay Packers.
---
Jaime Fineman, MD, MBE
Associate Program Director
Director of Ambulatory Education, Chair of Clinical Competency Committee
I am a Philly area native - born in the suburbs where I attended Upper Dublin High School and migrated to "The City" (
not
NYC!) for undergraduate education and medical school at the University of Pennsylvania. The highlight of my undergraduate experience was my time as an EMT, so I naturally thought I was headed towards emergency medicine. In medical school, however, I soon found myself attracted to the long-term care of patients with chronic conditions, and thus began my life as a primary care doctor. I moved to New York City for Internal Medicine-Primary Care residency at Weill Cornell to be closer to my husband's family. While in residency, I found my true calling by working in a small Federally Qualified Health Center in Queens - the joy of working with patients with social barriers to health, helping them navigate the American health system, working outside of the box to get them the care they need with the resources at hand. When it came time to starting my post-residency career, I knew I wanted to be back in Philadelphia, and Temple checked all of my boxes - an underserved patient population, a strong work "family" that supports and teaches each other, and a smart, hardworking, and compassionate group of residents with a seemingly endless supply of Temple "Grit". I currently work in our outpatient clinic at Temple Internal Medicine Associates, seeing patients of my own, working with residents and students, and helping manage the clinic flow as the TIMA Medical Director.  My primary academic interests are primary care, medical education, clinical reasoning, medical ethics, and I am starting develop a few niche medical interests in the primary care management of ADHD, obesity, and fibromyalgia. Outside of work I am kept busy with  my two young children, but in my spare time I enjoy spending time outdoors (biking, hiking), reading (science fiction and fantasy especially), doing puzzles, and playing board games. I love my time working with residents and helping to run this incredible residency program, and I am always amazed at the passion and energy that Temple residents and faculty bring to our program, our hospital, and our city each and every day.  And I'm always eager to convert interested residents into future primary care doctors - #ProudToBeGIM!
---
Amy E. Iwamaye, MD
Associate Program Director
Director of Professional Development
I grew up in Middletown, NJ in a big family – I am one of five children and a proud middle child! My siblings and I were all pretty active growing up– spending most of our days outside, playing various sports throughout the year, and spending our summers at the Jersey Shore! As an undergraduate, I traveled up the coast to Brown University. While there, I worked as a biology TA and an ESL teacher and fell in love with science and teaching. I decided on a career in medicine soon after. After taking a gap year working and living in NYC, I then moved to Philadelphia to attend the University of Pennsylvania for medical school. I've been in Philadelphia ever since!  I completed residency at the Hospital of the University of Pennsylvania, met and married my husband here, and worked as a primary care physician for 5 years in the city and surrounding areas. I decided to return to training to complete a fellowship in Endocrinology, which is what brought me to Temple. The community I found here has been so warm and welcoming that after I completed my training I made it my home as faculty. Outside of work, I am fumbling my way through parenthood with my husband as a mom of two boys and enjoying falling in love all over again with Philadelphia through our kids– which includes things like the Philadelphia Zoo, splash parks, Eagles games, and Rita's Water Ice! For me, medical training was such a unique experience – it was filled with hard work, friendships, excitement, challenges, and most importantly: self-discovery. I am honored to be able to work with residents in my role in the program as they navigate this experience.
---
Dharmini Shah Pandya, MD
Associate Program Director
Director of Quality Improvement/Patient Safety
Director of Resident Recruitment Director of Health System Sciences Track 
I was born and lived in Guttenberg, New Jersey until I was 7 when I moved with my mom, dad, and sister to South Florida to be closer to Disney World (or so I thought). My parents taught me the value of hard work and determination at a young age. I spent my time growing up molding my brain as a violinist (I wish I still played!), dancer, mathlete who loved logarithms, and crafted scrap books. When I entered college at University of Florida I experienced college sports to a whole new level – back to back to back national championships in football and basketball (who's bragging?) and became a diehard Gators fan. I then went to the rival Florida State University for medical school (this betrayal was as dramatic as it sounds) which is where I met my husband. The couples match landed us in Philadelphia so we packed up a little bit of Florida sunshine and were on our way. The collegiality and warmth I experienced here were unmatched, which is why after completing my residency I stayed on as faculty in the Section of Hospital Medicine. Fast forward to the present –I have learned to parallel park, bought snow boots, am a mother to two kids and a proud owner of a leaky roof– Philadelphia is now my home and Temple is now my family.  Through my residency and career at Temple I have learned that collaboration and innovation drive opportunities and change. Learning to understand and work within a complex health system has made me a better educator and clinician. My passion involves teaching these concepts, otherwise known as Health Systems Science, to others so that they themselves can become better teachers and leaders. I am Temple Made, and I am humbled to be able to drive innovation and teach future clinicians.
---
Dustin Pardo, MD
Associate Program Director 
Director of Curriculum, Director of Resident Advising Program
I was born on the small unassuming isle of Manhattan and have slowly worked my way out concentrically from there. I grew up in Briarwood in Queens and then Great Neck ("West Egg") on Long Island. My parents both worked in public schools and I was seemingly predestined to be involved in education. I attended college at Binghamton University in upstate New York, studying physics and math before deciding to pivot to what I considered at the time "science + people." I still like to pretend my premedical studies have had some meaningful long-term effect on the way I think, so please humor me. Conversely, I have long since abandoned the idea that my teenage act of rebellion against my native-Spanish speaking mother to take High School Latin was a good idea. I fell in love with Philadelphia while attending the University of Pennsylvania for medical school and, more importantly, with my wife who is a Philadelphia native. Therefore, after a brief four-year stint at Montefiore Medical Center in the Bronx for residency and chief residency, where I came to love working with underserved patient populations, I moved back to Philadelphia in 2017 to start working as a hospitalist at Temple. My primary academic interests lie in medical education and clinical reasoning, and I have served in various educational roles during my time at Temple before getting this opportunity. Outside of medicine, I spend my free time obsessing about the New York Yankees, binging books/TV/movies, and spending time with my physician spouse, a pediatric rheumatologist.
---
Anjali Vaidya, MD
Assistant Program Director
Co-Lead of Academic Half-Day
I was born in Philadelphia, PA at the Hospital of the University of Pennsylvania. I grew up in the suburbs just west of the city, attending public school and spending most of my free time playing soccer. My mother is a physician (Heme-Onc) and served as Medical Director for the City of Philadelphia's Department of Public Health Ambulatory Health Services (aka, the free Health Centers); I was extremely lucky to have such a strong and committed physician role model, who taught me the importance of service to our entire community, to those who are underserved, and those who are the most vulnerable. I moved to Boston to attend the 7-year combined BA-MD program at Boston University, where the motto "Exceptional Care without Exception" continued to feed my inspiration. It is no surprise I ultimately came to Temple with these values and influences engrained in me, but first I completed my IM Residency, Chief Residency, Cardiology Fellowship, Echo, and Advanced Heart Failure/Transplant Fellowships at the Hospital of the University of Pennsylvania (full circle to my place of birth!). I then stayed at Penn as Cardiology/Heart Failure Faculty, serving as Co-Director of their Pulmonary Hypertension Program and APD for their IM Residency for a few years, before being recruited to Temple. I now have the privilege to serve as Assistant PD for the IM Residency, Associate PD for the Cardiology Fellowship, PD for the Pulmonary Hypertension Fellowship, and Co-Director of our Pulmonary Hypertension, Right Heart Failure, and CTEPH Program. I am passionate about mentoring and advocacy with regard to navigating academic subspecialty careers, and supporting Women in Medicine. I also still love (watching) soccer, yoga, popcorn, and pizza!
---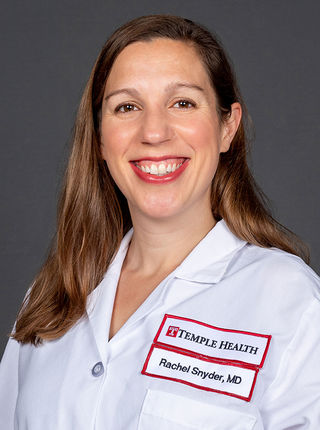 Rachel Snyder, MD
Assistant Program Director
Director of Ambulatory Curriculum, Co-Chair of Wellness Committee
Associate Program Director of Primary Care Track
I was born in Nebraska, but moved to a suburb of Philadelphia, Pennsylvania when I was a baby. I lived there until I moved to go to college at The University of Michigan (forever Go Blue!). No one in my family even remotely has a career in science or healthcare; it was at Michigan that I really began to explore my love of science. After college, I moved back to Philadelphia to be closer to my family and have happily been here ever since! I worked for two years before starting at Drexel University College of Medicine. After medical school, I completed my residency at the Hospital of the University of Pennsylvania – the Primary Care Track. After residency I knew I wanted to stay in Philadelphia, get involved in medical education and work with an underserved population. I specifically wanted to be at a place where I would be surrounded by people who would challenge me to be the best doctor I could be and who shared a similar mission of taking care of the North Philadelphia community. Temple proved to be that place. My clinical time is spent in outpatient primary care and working at the TRUST clinic (suboxone). My non-clinic time is spent as the Assistant Program Director where I oversee the ambulatory curriculum for the residency. I also serve as the Associate Program Director of the Primary Care Track. While I am biased because I am from the area, I do believe Philadelphia is an east coast city gem and I love living and working in the city. Outside of work, I enjoy experiencing all that Philadelphia has to offer—from overhyped sports teams to amazing food, music, and running trails. You can usually find me searching for a good neighborhood coffee shop (I have a lot of recommendations!) or hanging out at one of Philly's amazing parks with my husband and two energetic kids.
---
Vanneta Hyatt, MD, MA
Assistant Program Director
Director of Community Engagement, Director of Diversity, Equity, and Inclusion
Chair of Diversity Task Force
When I relocated to Philadelphia looking for my first job as a primary care physician, I knew I wanted to find an academic institution with a mission focus on serving the underserved population. This has been the driving force behind my medical education- helping marginalized and underserved population. I truly found that at Temple- from the medical school through the residency program, the faculty and staff, the passion for our mission and community motivates me daily. Originally from the beautiful island of Jamaica, I relocated to Brooklyn New York, where I spent majority of my life. I did my undergraduate and graduate studies at the City University of New York and my medical education at Weill Cornell Medical College. I decided to venture out of NYC and travelled to the south for residency at Emory University.  While in Georgia my passion for primary care flourished, thus it was no surprise when I relocated to Philadelphia that Temple would be the ideal place to plant my roots-and plant I did- as I am now the proud owner of a home in Philly.  My time here at Temple is spent working with the residency program, initially as a core faculty and now an Assistant Program Director, working with medical students within the Doctoring Program and of course taking care of our wonderful North Philadelphia population. In addition, I get to enjoy the unique attributes of the city, from the rich history, foods and of course the people. Now, I am not a huge sport fan, but I learned quickly how "fanatic" Philly natives are with their sports and I love it!! On any given weekend you may find me hanging out with my "tween" niece and yes, oftentimes chauffeuring her to her activities. I also love hanging out with friends exploring Philly and its suburbs, but most of all, I enjoy moments of relaxation with my siblings and extended family.
---
Key faculty members for the Internal Medicine program include:
Jill Allenbaugh, MD, Director of Medical Education Track
Monica Busuioc, MD, PhD, Co-Director for Inpatient Interprofessional Education
Ashwin Chandar, MD, Co-Lead of Academic Half-Day
Giuliana DeFrancesch, MD, Co-Director of Global Health, Member of Temple's Diversity Task Force
Anam Fatma, MD, Director of the Critical Appraisal Curriculum, Co-Lead of Academic Half-Day
Jamie Garfield, MD, Co-Lead of LGBTQ/Transgender care curriculum thread, QI/PS curriculum creator
Susan Gersh, MD, Co-Chair of Residency Wellness Committee
Matthew Gordon, MD, Director of Simulation Education
Sabrina Islam, MD
Nicole Keane, MD, Director of Point of Care Ultrasound Education
Rebecca Kim, MD
Daniel Kim, MD, Co-Director of Point of Care Ultrasound Education
Sheetal Koul, MD, Co-Lead of Academic Half-Day
Neena Mohan, MD
Keith McNellis, MD, Director of Medical Consultation & Morbidity and Mortality Conference
John Nawn, MD, Director of Board Review Curriculum, Clinical Pathology Conference Series
Estefania Oliveros, MD
Parth Rali, MD
Stephanie Spivack, MD, Director of the Urban Bioethics Track
Sam Stern, MD, Director of Addiction Medicine Curriculum and Elective; Community Engagement Coordinator
Cherie L. Vaz, MD, Director of Resident Research
Paul Williams, MD
Janice Yackoski, MD, Director of Primary Care Track
GME Administrators:
Brittany Colombo
Autumn Wert
Jasmine Mangat
Many other faculty make major contributions to the residency program. Please refer to the faculty directory for more information. Among them are:
Thomas Fekete, MD, Thomas Durant Chair, Department of Medicine
Karen Lin, MD, MPH, Abraham Roth Chair of Preventative Medicine, Assistant Dean of Phase 1-M2
Anuradha Paranjape, MD, MPH, Vice Chair for Clinical Affairs
Hannah Ravreby, MD, Associate Dean for Curriculum
Lauren Monaco MD & Caitlyn Labella MD, Co-Directors Medicine Clerkship
Ankita Chatterjee, MD, Sub-Internship Course Director
Jonathan R. Anolik, MD, Section Chief, Endocrinology, Diabetes and Metabolism
Lawrence Brent MD, Section Chief, Rheumatology
Michael Bromberg, MD, PhD, Section Chief, Hematology/Oncology
Gerard Criner, MD, Chair, Thoracic Medicine and Surgery Department
Daniel Edmundowicz, MD, Section Chief, Cardiology
Frank Friedenberg, MD, MS(Epi), Section Chief, Section of Gastroenterology
Nathaniel Marchetti, DO, Director of Intensive Care Unit
Lawrence Kaplan, MD, Section Chief General Internal Medicine
Rachel Rubin, MD, Section Chief, Hospital Medicine
Rafik Samuel, MD, Section Chief of Infectious Diseases