A Walk in the Park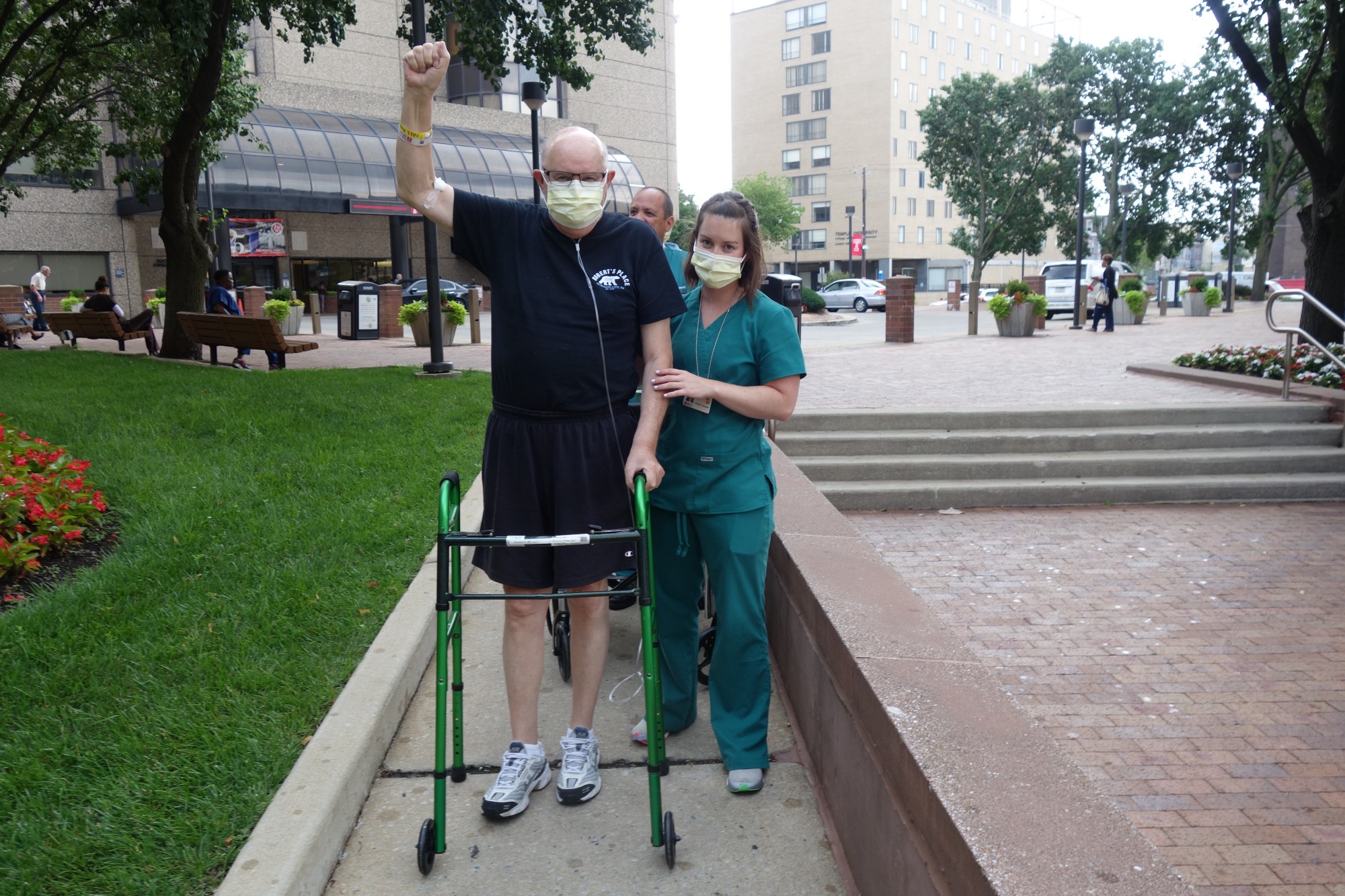 by Michael Vitez
The other day, just after lunch, a man in a wheelchair was pushed out the main entrance to Temple University Hospital and rolled into the sunshine.
He had a mask on his face, and an oxygen cannula leading into his nose.
People all around were bustling in and out of the hospital through the sliding doors.
But they were extras on his stage.
He stood, something he had worked on and was quite proud of, lifted his chin to the sky, and exulted: "I'm outside!!!!!"
He literally breathed in the moment – inhaling fresh air for the first time into his new right lung.
Holding firmly onto a walker now with one arm, he raised the other arm in triumph, a half-Rocky.
The man, Tim Adams, 69, was not alone, but the locomotive on his own train.
As he pushed the walker, slowly, his physical therapist, Casey Gillick, a former gymnast, held his arm. Walking behind, pushing the empty wheelchair with oxygen tank, was Isais Rosario. "I'm his chauffer," said Rosario, a member of the rehabilitation team.
The patient's wife, Donnamarie Adams, in most ways first, followed last.
The July sun on this afternoon was rejuvenating, not punishing, and the temperature a glorious 87 degrees. Doctors and nurses and civilians sat on shady benches eating their lunches, talking on phones, laughing. A summer day!
He looked about him. There were flowerbeds and birds, cars dropping people off. A horn blared on Broad Street. Life!
Slowly, steadily, he moved across the hospital's brick apron, passing the traffic circle in front, toward the sidewalk and street.
"I'm going to try and escape," the patient quipped.
"We've got security and cameras," confided Rosario, playing along. "He can't go nowhere."
The patient stopped.
"I just want to rest for a second."
Tim Adams had been days from death. That's no exaggeration.
"Dr. Criner took a look at me one Friday after I failed a breathing test. `You're checking in.' Three days later I had a lung."
Gerard Criner is head of Temple's Lung Center. The transplant was on June 19.
Not five weeks ago.
"I'm so happy," the patient said.
"It's like my first shower a couple days ago. Oh, joy!"
Gillick, his physical therapist, had been in the next room, working with another patient, and heard him through the walls and closed doors, crooning, giving that new lung a workout.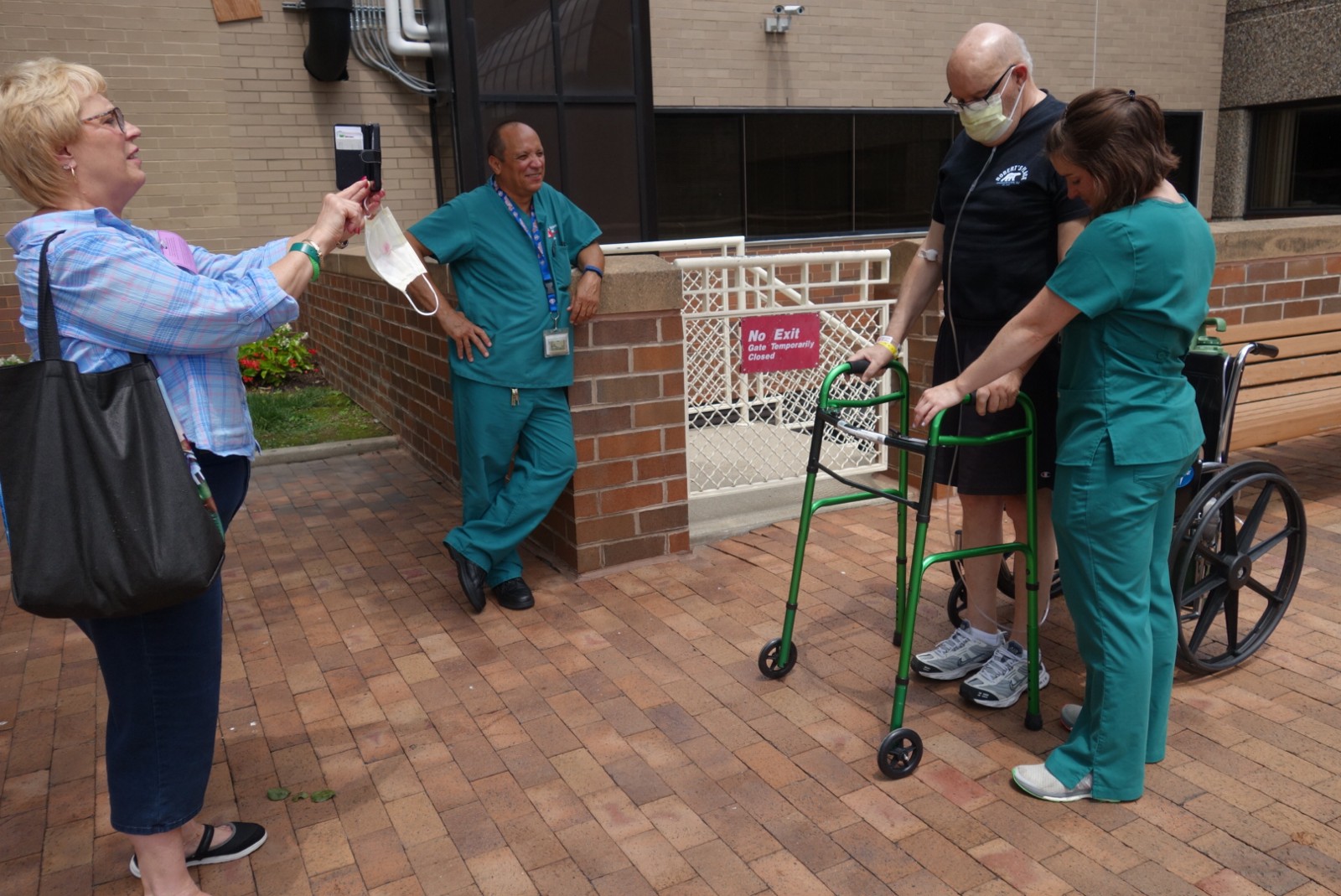 Adams was in marketing all his life, a creative type. He made up a song.
"I'm in the shower I'm free.
I'm in the shower, just me!"
This singing didn't surprise anyone. In the physical therapy room, on the 8th floor, he browbeats the staff to play ‪James Brown, and he sings along with Godfather of Soul to "Get on up," which, in this setting, could be considered a motivational song.
On his first trip outside, he wore t-shirt, gym shorts and running shoes.
"They told me to dress for success," he said.
Enough rest. Gillick wanted him to walk over to some steps.
He walked and gushed.
"You should know this hospital saved my life and there are literally angels all over. They held my hand. Stayed with me night and day. This is the best place in the world."
The therapist helped the patient up and down the steps. Now she wanted him to stand on his tiptoes 10 times.
He did.
"You did so well. How about another five?"
"Liar. Liar. Pants on fire," he said. Then he explained: "I say this because they're always pushing me beyond, harder, more, another five, another ten, which is why I'm here."
He was quite astonished at all that he'd learned: How to stand again. How to walk again. How to breathe – and recited his new mantra: "Breathe in the flowers, blow out the candles."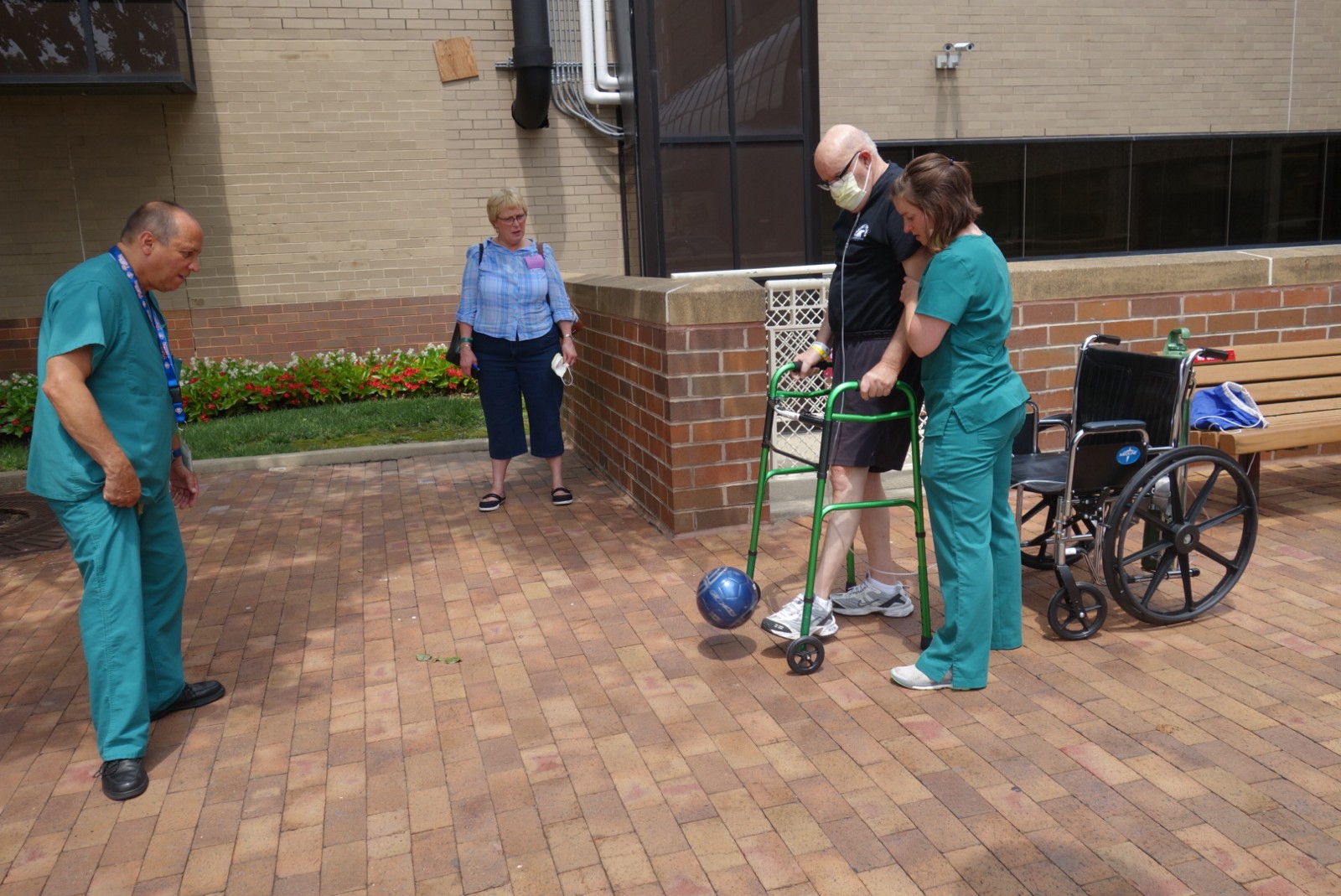 He kept moving, a lap around the entrance area.
Two women in hijabs were on a bench, eating lunch.
"Can I have a bite of that sandwich?" he asked playfully, but also longingly. "Is that a Philly cheesesteak?"
"I wish," she replied. "It's a bootleg one from a truck."
A pizza man was getting out of his car in front of the hospital with three steaming boxes.
"807! 807!" shouted Adams. His room number.
Rosario the chauffer shook his head. "It's fruits and vegetables for him."
Donnamarie Adams marveled at her husband, and kept taking photos of him to chronicle the occasion.
"He's come a long way," she said. "You're in the hospital five weeks, it feels like five months."
She has stayed at the Gift of Life house in Center City as he has convalesced, and they will stay there together for another week after he is discharged from the hospital before going home to Ventnor.
One last exercise — kicking a soccer ball back and forth with Rosario. The patient held onto his walker, lifted his leg slightly, and kicked the ball, alternating right foot and left. In the spirit of the moment, he raised a hand in triumph after one kick and shouted just like the announcers on Telemundo, "Gooooool!"
"You're going to sleep this afternoon," said his wife.
Michael Vitez, winner of the 1997 Pulitzer Prize for Explanatory Journalism at The Philadelphia Inquirer, is the director of narrative medicine at the Lewis Katz School of Medicine at Temple University. Michael.vitez@temple.edu