From Scrubs to Stage, Temple Resident Finds Meaning in Telling Stories
By Michael Vitez  |  June 2, 2016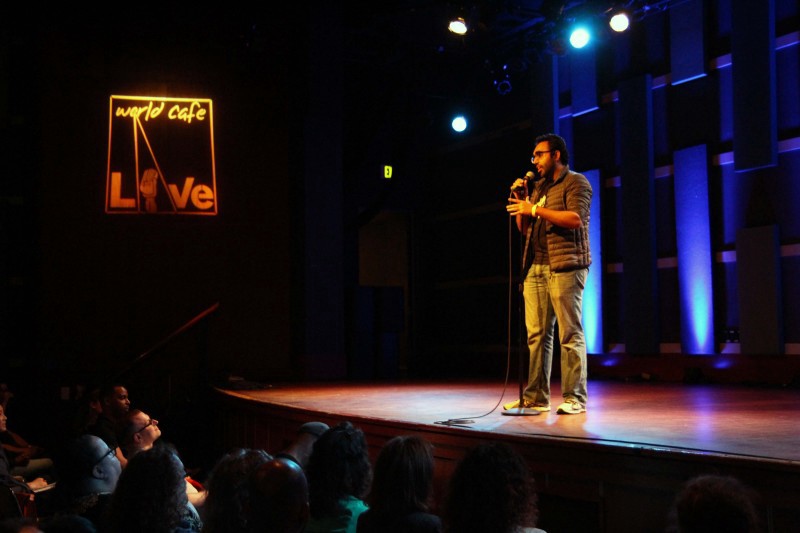 Dr. Mohammed Nayeemuddin, known to patients and friends alike by his nickname, Zeeshan, was scheduled to get off work at 5 for once. He had a performance at 8. But at 6 p.m. he was still there. A woman was dying, and he needed to give her family the difficult news. 
She was very old, with infection in her blood, many organs failing. This was her third day and Zeeshan had been preparing the family. Now he pulled them into a small waiting room and explained there was nothing the family could do, no decision they could make to prevent her imminent death. He promised to keep her comfortable. "It was like the burden was lifted from them," he said. 
He'd been patrolling Temple University Hospital's medical intensive care unit, his domain, since 6 a.m. He cares for 12 to 20 patients, the sickest of the sick. This is by choice. He loves how the ICU commands his absolute focus, and how sometimes, because of the intensity, because death is so near, he forms deeper bonds with patients and families than he believes is possible in any other practice of medicine. 
But now he was running late.
Zeeshan, 28, has found a way to deal with the emotion, isolation and intensity of intensive care. He tells stories. He competes in New York and Philadelphia in what are known as story slams. And he often wins.  
"Especially after bad days at work," he says, "storytelling ends up being a really good outlet for me.  
"Storytelling is venting to a huge crowd in a HIPAA-friendly manner," he quips. 
He'd worked 12-hour days for six days in a row, part of a 14-day stretch. He'd had to trade in order to get time off for his sister's wedding.
On this May evening, he wished he'd had more time to prepare. But such is the life of an ICU resident.
He changed out of his scrubs, jumped on the subway, and arrived at World Cafe Live in West Philadelphia with minutes to spare.  
He would be competing in the "Grand Slam," a city championship, against 11 other winners from slams held in the past year by First Person Arts, a story slam company. 
Zeeshan is from India, moved to St. Louis when he was 7, and then to Jersey City for high school. He went to Rutgers University and New Jersey Medical School in Newark, N.J.  
He discovered story slams in his fourth year of medical school. Spending all the time in the car, driving to interviews for residency, he discovered The Moth, a radio program devoted entirely to storytelling. The Moth hosted story slams, and he decided to go to a few. Then he decided to enter. He loved it.  
He believes they make him a better doctor. 
 "Sometimes," he says, "after a good bout of storytelling, or self‐reflection, which is what storytelling is, I'll look at the patient more as a whole person than just a disease that I have to find a way to fix. When you're creating the plot, the story, you can't just look at the pieces, like you do in medicine. You end up linking a lot more together than you normally do." 
Earlier this year, in March, Zeeshan finished third in a national story slam for doctors held by the American College of Physicians. The subject was "On Being a Doctor". 
In that slam, he told a story from his first year as a resident in intensive care. A 30‐year‐old man had suffered a brain injury. Zeeshan was surprised by the grace with which the mother accepted the news. She told him her son had wanted to be an organ donor, and asked if Zeeshan could make that happen. 
He arranged everything. The patient's life support would be removed in the operating room, and if he stopped breathing within an hour, surgeons would be there to remove his organs. The mother gave Zeeshan an iPod with a playlist and asked him to play it during her son's last hour. It started with "Candle in the Wind". Zeeshan had tears in his eyes. Then "My Heart Will Go On". Then "California Girls". Then Katie Perry's "I Want to Touch Your Peacock", which repeats the word cock, cock, cock and everybody in the OR started laughing. The sound track was a true celebration of the young man's life. 
But in the end, the patient didn't die when taken off the ventilator, and his organs couldn't be recovered. His last wish wasn't fulfilled. Zeeshan sat with the family until the patient finally died at 5 a.m.  
"I was defeated," Zeeshan explained recently. "It wasn't until I was able to process the experience through the story slam that I felt better." He added: "Physician burnout and suicide is not discussed often but is very real. If we talked about what we're going through, burn out and suicide would go down dramatically.  As a physician your life is a series of traumatic incidents. It's better to be able to share it." 
At the World Cafe Live, the topic was "Where I Come From." 
This was a night club, not an intensive care unit. The audience was young people, not doctors. This was performance, not patient care. Each contestant would be judged on the quality of the story, its narrative arch, its conflict and resolution, and also on the command and stage presence of the performer. Time limit in all story slams is five minutes.  
Zeeshan decided to tell a story about his third year of medical school, a story he'd told before, something he never wants to do. He likes to tell an original story in each slam because the first time he tells a story is the time he tells it with the most passion. But he just had no time to prepare a new story. 
He entered medical school, he told the audience, determined to be a surgeon. But to be a surgeon he needed to have the highest boards and grades in medical school. He had to get honors on his internal medicine rotation, which would be divided into halves, at two different hospitals. 
He did the first rotation, and thought he nailed it. But the doctor evaluating him felt differently. "You have no bedside manner," the doctor told him. "Nobody likes you!"  
The World Cafe Live audience was loving it. Zeeshan continued: "How am I going to get honors now? That's all I cared about. Now I'm starting at the second hospital. I'm going to do better. I'm going to bedside the hell out of these patients. Get a better grade." 
He was talking fast, like the hustler that he was at the time. Then he said he went in to see a woman in the emergency room.  
"I sit down on the bed next to her," he told the audience. "I say `How are you doing?' She says, `Nobody sat on that bed all day.' My resident comes in in a NASA space suit. `Dude, she's got scabies.' Ahhhhh. I don't let it show. I'm committed to this. I'm here for her. I keep talking. But this whole time I've got this prickly sensation…" 
Zeeshan did not get scabies. But he got to know this patient. She was admitted to the hospital and he visited her every day. She was homeless. She didn't trust doctors. Didn't trust the system. She had fluid in her belly that doctors needed to remove, but she refused.  
Every day she refused treatment. Every day she got sicker. One day, the attending told him if she didn't get the fluid out that night, she'd probably die. 
Zeeshan had a crazy idea. 
"What do you think's going to happen to that fluid after we take it out of you?" he asked the woman.
"You're going to do whatever you want with it," she told him.  
"What if I just leave it here at your bed after we take it out?" 
"Yeah, I'll do that." 
Being able to keep or own fluid, being able to have some control, persuaded her to go forward. When doctors confirmed this decision with the patient, she pointed to Zeeshan: "He's going to do it." 
Zeeshan got the needle, did the procedure, guided by the resident. The woman got better. The woman got a liver transplant. The woman became his patient in clinic. 
"That experience is part of the reason why I left surgery behind," Zeeshan said, ending his story. "I gained a little bit of bedside manner and I'm a medical doctor today." 
One of the judges, Jamie Brunson, executive director of First Person Arts, was given a microphone, asked for a reaction. 
"Zeeshan," she said, "You always are funny and you're so sweet. I bet you have good bedside manner. And, listen, speaking of bedside manner, I've been wanting to asking you something ever since I first met you. I have a niece and she's 28 and she's single…" 
The audience began to howl.  
"…Are you single?" she continued. 
Zeeshan smiled but politely declined the offer. 
The audience groaned with disappointment and disbelief. 
"You know she's one of the judges, right?" said Chip Chantry, a comedian and master of ceremonies. 
Zeeshan didn't win. But he was jazzed. He said he'd never heard so many great stories in one slam.  
So many of the contestants told stories of being rock bottom and coming back. The winner was an alcoholic who told about her recovery. Others in the slam had been shot, stabbed, hit by truck, addicted, obese, and finished last in a marathon.
"You have to be completely honest and truthful about yourself when you're up there," he said, "Every time I've gotten really close, or almost there, is every time I've won. There are days I go right after work, and it just comes out. And every single time you get off the stage and there's this big rush. That needed to be said." 
And this night?  
"I felt good," he said. "It's going to be a good day tomorrow."
Postscript:
Zeeshan leaves in mid‐June for Brown University, where he will do a fellowship in critical care. But he agreed to return in the fall, to help run a story slam for Temple medical students. To watch Zeeshan's performance "Playlist for an Organ Donor", visit the American College of Physicians Annals Story Slam.
---
About the Author: 
Michael Vitez, winner of the 1997 Pulitzer Prize for Explanatory Journalism at The Philadelphia Inquirer, is the director of narrative medicine at the Lewis Katz School of Medicine at Temple University. Michael.vitez@temple.edu