Temple Now Offering Transcaval Transcatheter Aortic Valve Replacement (TAVR) for Patients with Aortic Stenosis
POSTED ON
March 13, 2017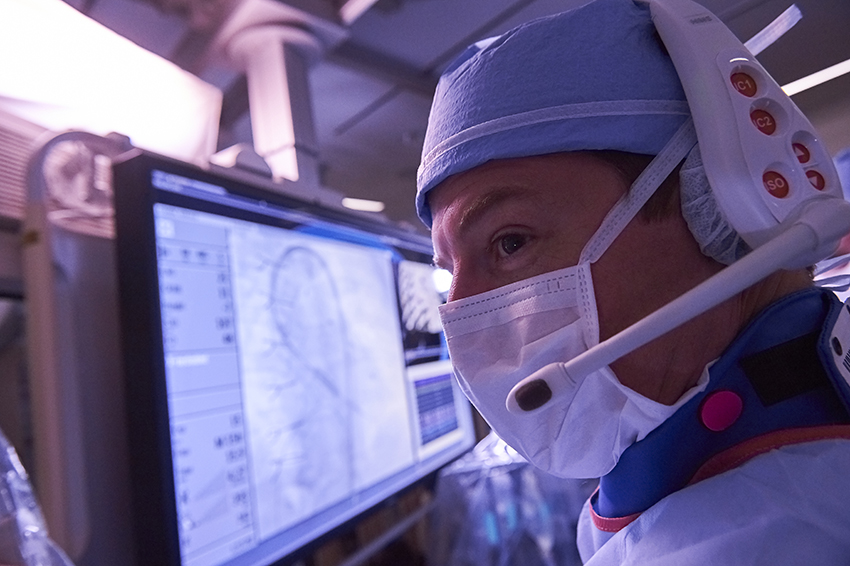 Temple University Hospital is offering an alternative approach to transcatheter aortic valve replacement (TAVR) to treat aortic valve stenosis, a potentially deadly condition characterized by a narrowing of the aortic valve opening that does not allow normal blood flow out of the heart. The new method is called transcaval TAVR and is available to patients for which standard percutaneous or minimally invasive surgical approaches cannot be performed.
Physicians typically perform TAVR through the femoral artery in the leg, but for 10 to 15 percent of these patients they must find a different access route because the femoral artery is too small or diseased. The most common alternative route is through a minimally invasive chest incision, however even this approach may pose complications for patients who have undergone multiple open heart surgeries or have respiratory issues.
The transcaval approach involves placing a small wire through the femoral vein in the leg which is then directed across to the abdominal aorta under fluoroscopic (X-ray) guidance. Once the connection is made between the vein and artery it allows doctors to perform a standard TAVR procedure where they will insert a catheter to guide a replacement valve to the location of the aortic valve. The replacement valve is expanded, pushing aside the old valve, and begins functioning right away, leading to improved blood flow. Plugs are then inserted in the abdominal aorta and vein to close the holes made for the connection.
"As more patients are offered TAVR, it is important we realize that one size doesn't fit all," says Brian O'Neill, MD, Assistant Professor in the Department of Medicine at the Lewis Katz School of Medicine at Temple University (LKSOM), and Medical Director of the TAVR program at Temple University Hospital (TUH). "Different patients require different options, so we are thrilled to be able to offer another treatment option to our patients."
Kenji Minakata, MD, PhD, Associate Professor in the Department of Surgery at LKSOM, and Surgical Director of the TAVR program at TUH adds, "This new approach will open the door to patients with more complex vascular problems which may prohibit them from undergoing a standard TAVR procedure."
Dr. O'Neill says patients who are not candidates for a standard TAVR and instead undergo a transcaval TAVR generally recover in half the time compared to patients who proceed with the alternative TAVR through the chest. "This procedure has a lot of potential for improving the post-procedure care of patients. We are seeing that patients are able to recover a lot quicker than they normally would."