Temple Event Cultivates Connections for Aspiring Black Male Physicians
POSTED ON
December 03, 2019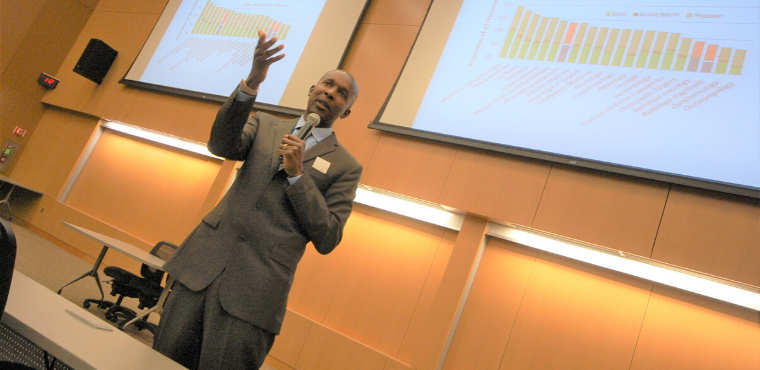 It's always a good sign when an event doubles in size from year one to two. That was the case with the 2nd annual Black Men in Medicine Symposium, which saw a big jump in attendance and the addition of a keynote speaker this year. The event's purpose is to address the national decline in the number of black men pursuing medical degrees. 
Held on November 1 at the Lewis Katz School of Medicine and sponsored by the school's Office of Health Equity, Diversity and Inclusion, the day consisted of two parts. At noon, Damon Tweedy, MD, spoke to students and faculty members about his own experience as a black man in the field of medicine. Dr. Tweedy is Associate Professor of Psychiatry and Behavioral Sciences at Duke University School of Medicine and author of Black Man in a White Coat: A Doctor's Reflections on Race and Medicine.
"So many black men get labeled or written off, but I was fortunate to have parents and mentors who encouraged me," said Dr. Tweedy. "I wasn't thinking of race when I started medical school in 1996, but I came to learn that, no matter the disease, blacks do worse. I began to wonder why and what could be done about it."
A formative experience for Dr. Tweedy was the death of his grandmother during his first year of medical school. He likes to say she was his first introduction to medicine. 
"She had heart failure, suffered strokes and had a long history of hypertension, but she didn't trust doctors," he said. "What I was learning in the classroom I was seeing in my grandmother."
Six months after her death, Dr. Tweedy was diagnosed with hypertension and the earliest stage of kidney disease. It was picked up in class when a fellow student was practicing taking blood pressure. "I wondered if I was going to become one of the statistics I was learning about," he said.
"I often say I have a foot in two worlds – that of a black man and that of a physician – but not two feet in either," he told the audience before taking time for questions. 
Later in the day, 60 aspiring black male physicians – up from 25 last year – and 10 Temple-affiliated black male physicians came together for "An Evening with Black Men in Medicine." This more intimate event included dinner, networking opportunities and the chance to explore a range of subjects, from applying to medical school to selecting a specialty. The students were encouraged to exchange contact information and to schedule shadowing and mentoring opportunities with the physicians.
"The lack of black men pursuing medical degrees is a very real problem because representation in medicine is important," said Melanie Cosby, PhD, Assistant Professor and Director of Diversity and Inclusion at LKSOM. "This day is part recruitment, part pep rally. It's important for young black men who are interested in medicine to meet and hear the stories of those who have come before them."
The impetus for the Black Men in Medicine event was LKSOM's incoming class of students in 2018. In total, 303 black men started applications and 188 completed them. Out of the 32 who were interviewed, 21 were accepted but all but one went elsewhere, leaving that year's class with only one black male out of 200 students. That number jumped to 15 in this year's class. 
A 2015 report by the Association of American Medical Colleges (AAMC) showed that the number of black males applying to medical schools has not increased above the number from 1978. The AAMC report showed that in 1978, 1,410 black males applied to medical school and in 2014 that number was just 1,337. The AAMC also reported that less than six percent of medical school graduates nationally identified as black or African American in 2017.
Photo caption: Keynote speaker Dr. Damon Tweedy spoke to students and faculty members about his own experience as a black man in the field of medicine.