Lewis Katz School of Medicine Research Enterprise Grows: Langford and Kilpatrick Promoted
News
August 19, 2021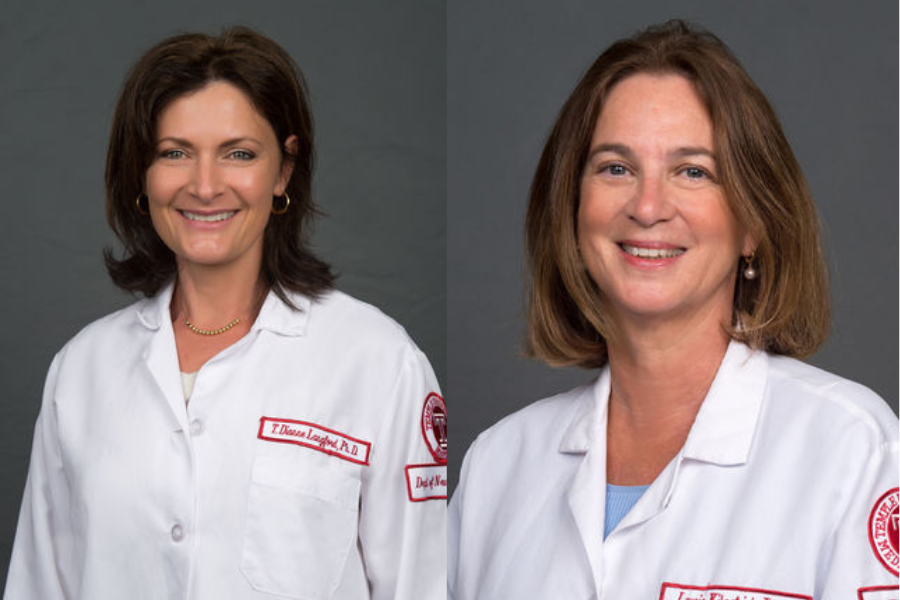 On August 11, Amy J. Goldberg, MD, FACS, Interim Dean, announced two leadership appointments that are essential to the continued growth and expansion of the Lewis Katz School of Medicine research enterprise. T. Dianne Langford, PhD, has been promoted to Associate Dean for Research and Laurie Kilpatrick, PhD, has been named Assistant Dean for Clinical Research.   
Dr. Langford, Professor of Neural Sciences and Professor in the Center for Substance Abuse Research, a Temple faculty member since 2007, previously served as Assistant Dean for Research. Her promotion to Associate Dean of Research represents her expanded responsibilities within the Katz Research program to develop and build partnerships among clinical and basic science faculty and students to foster growth.  
 
Dr. Langford studies cellular and biochemical responses to concussive brain injury, HIV infection of the central nervous system, and substance use. Her research has been supported by the Army Research Laboratories, the Department of Defense, the National College Athletic Association, and the National Institutes of Health, among other funders.  
 
Dr. Kilpatrick, a faculty member since 2009, holds professorships in the Department of Microbiology, Immunology, and Inflammation, the Department of Thoracic Medicine and Surgery, the Center for Inflammation, and Lung Research, and the Sol Sherry Thrombosis Research Center. Her research, which focuses on vascular inflammation in sepsis, novel therapeutic approaches to modulate inflammation, and acute respiratory distress syndrome, is currently supported by the National Institutes of Health and the Defense Threat Reduction Agency. Dr. Kilpatrick is the President of the Shock Society, an international society promoting clinically relevant research into the basic biology of trauma, shock, and sepsis. 
As the Assistant Dean for Clinical Research, a new position for the School, Dr. Kilpatrick will focus on the school's research priorities, working closely with Dr. Langford and Steven R. Houser, PhD, Senior Associate Dean for Research. Dr. Kilpatrick will also collaborate with clinical faculty and research administrators across the Health System and University to develop strategies and infrastructure to support the growth and development of clinical research – a vital component of the Katz School's overall research enterprise.  
"Drs. Langford and Kilpatrick have scientific acumen, administrative know-how, and leadership skills," says Dr. Houser. "Exactly what it takes to keep a multifaceted medical school research program moving ahead."    
According to Dean Goldberg, the school's research enterprise has expanded in recent years – "and with the recent reorganization of our basic science departments and research centers – and the strategic addition of Drs. Langford and Kilpatrick to the school's excellent leadership team – the Katz School's  multi-million dollar research enterprise is poised for unprecedented growth in the months and years ahead."