Katz School of Medicine, Temple Health Donors Ignite the Spirit of Giving in Fiscal Year 2019
News
October 15, 2019
Alumni, friends, patients and employees made significant gifts to Temple Health during fiscal year 2019, raising $32 million in support of education, patient care, research and service to the community. This remarkable fundraising total represents combined philanthropic support for the Lewis Katz School of Medicine at Temple University and other health system entities, including Fox Chase Cancer Center and Temple University Hospital.
Two standout transformative commitments helped bolster success during the year. The first, a significant legacy gift, will establish the DeMaio Stewart Abdominal Transplantation Fund to support abdominal organ transplantation at Temple for years to come.  Additionally, a seven-figure commitment to the John H. Moran MD '68 Endowed Scholarship Fund will support medical students who demonstrate financial need at the Katz School of Medicine.
Overall, the Katz School of Medicine received more than $14 million in combined giving, marking another successful year for philanthropy and participation. Scholarship giving remained a top priority, as rising medical school debt continues to be an issue across the nation. In fiscal year 2019, donors established or significantly added to ten endowed scholarship funds, moving the school even closer to meeting an ambitious goal of a $50 million MD scholarship endowment by 2026.
Thanks to ongoing scholarship support, the Katz School of Medicine was able to distribute approximately $2.3 million in donor-funded scholarships to 151 students during the 2018-2019 academic year.*  
At the annual Scholarship Celebration Dinner in March 2019, student scholarship recipient Anita Wamakima, MED '21 thanked assembled scholarship donors, remarking, "Your support has reduced the weight of my student loans and allows me to freely explore all specialties. I am grateful that you all have decided to invest in the future of medicine."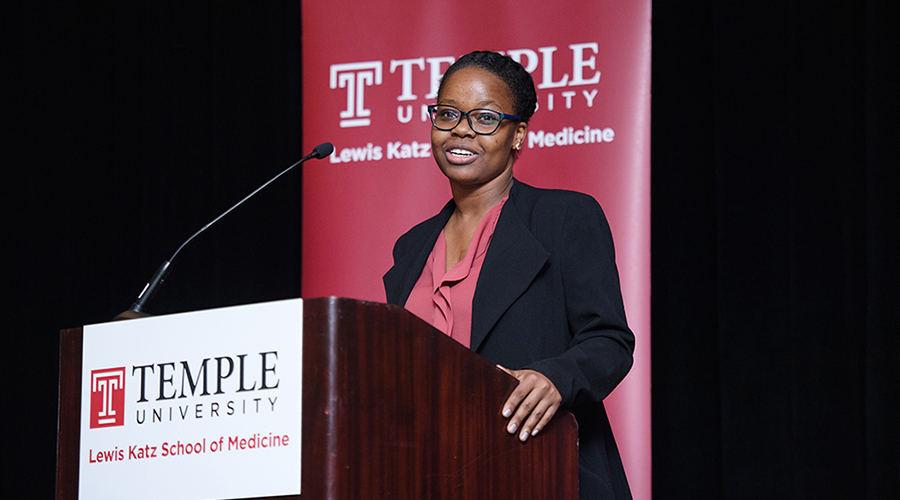 Anita Wamakima, MED '21, speaking at annual Scholarship Celebration Dinner
Robust alumni participation and connection marked the annual reunion celebration at the Katz School of Medicine. Reunion fundraising totals reached nearly $600,000 from classes ending in 4 and 9, as classmates gathered for a weekend of programming, education and engagement with the school and each other.
Two Temple Health initiatives exceeded fundraising expectations during Temple University's OwlCrowd crowdfunding campaigns in fiscal year 2019. The first, for the Temple Health LGBTQ Alliance Task Force, supported LGBTQ-centered care, education and research across the Health System, the Katz School of Medicine and the community. The second supported a month-long rotation to Kenya for two Temple University Hospital anesthesiology residents to augment the clinical care available at the Kijabe Hospital.
Temple University Hospital, the chief clinical training site for the Katz School of Medicine also experienced an exceptional fundraising year, including $1.5M raised at the 2019 Acres of Diamonds Gala in support of vital, lifesaving work at the hospital and across the region. 
Closing out the fiscal year in June, the annual White Coat campaign rallied alumni, parents, faculty and friends of the Lewis Katz School of Medicine in support of the incoming MD class of 2023. Proceeds from the campaign provided a Temple branded stethoscope to every incoming first-year student, and will support a broad range of first-year student activities and initiatives.
"I am incredibly proud to be part of this vibrant, philanthropic community," said Nina Weisbord, Chief Advancement Officer at Temple Health and assistant dean of the Lewis Katz School of Medicine. "What we achieved together this year is a reflection of the depth of investment of our community in our tripartite mission of education, patient care and research.
Help support this important work by making a gift today to the area that means the most to you.
*Data based on activity through February 2019. Final data will be available after October 2019.