Celebrating Dr. Fekete, a Linchpin at Temple for Four Decades
News
January 10, 2023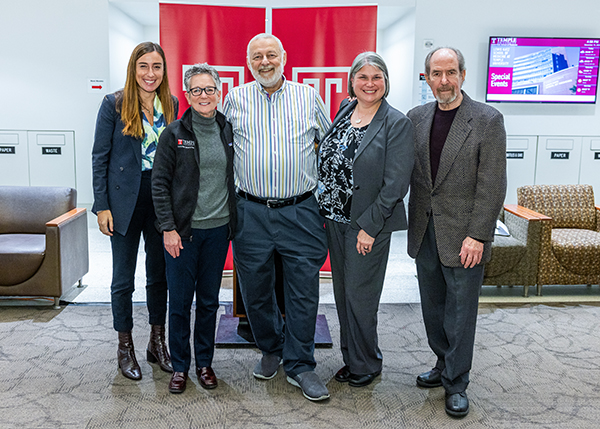 Speaker after speaker at the December 15 retirement ceremony for Tom Fekete, MD, MACP, seemed to be in genuine awe of the man. Could he be this brilliant and modest? How could he be so accomplished and considerate of everyone he works with?
One thing was clear: Throughout a nearly 39-year career, Dr. Fekete, the Thomas Durant Chair of the Department of Medicine, has made a profound impact on the Temple University Health System and Lewis Katz School of Medicine.
"Tom has been a steady source of excellence and integrity across time and through great change," said Amy J. Goldberg, MD, FACS, Dean of the Katz School, the George S. Peters, MD, and Louise C. Peters Chair and Professor of Surgery, and the Temple Health Surgeon-in-Chief. Dr. Goldberg began her residency at Temple in 1987, three years after Dr. Fekete's arrival. "So many aspects of our mission and operations have been elevated — educational programs, clinical operations, administrative affairs — thanks to Tom."
In pointing out just how much Temple has evolved during his tenure, Dr. Fekete noted that when he arrived at Temple, "the place where we're standing now was a parking lot."
He admitted to not knowing what Temple was when he was recruited by Bennett Lorber, MD, MACP, then the new Chief of Infectious Diseases.
"I'd never heard of Temple. I thought it was religious. It wasn't," Dr. Fekete said. "But I really can't believe that I didn't know about it because this mission is so aligned with my own desires and goals in life."
The story became an opportunity to encourage the audience at the retirement ceremony – colleagues, past and present, and former medical students – to be more inquisitive, a quality that was used to describe Dr. Fekete multiple times, both professionally and personally.
"Tom is smart. Very smart. And he's a scholar. And he's deeply thoughtful about his scholarship. He ponders things and encourages others to be thoughtful," said Dr. Lorber, who worked closely with Dr. Fekete until Dr. Lorber's retirement in 2018. "He questions dogma without being cynical."
As evidence of Dr. Fekete's insatiable appetite for knowledge of any kind, Heather Clauss, MD, Senior Associate Dean of Faculty Affairs and Professor of Clinical Medicine at the Katz School, noted that he's traveled to 42 countries across five continents. Everywhere he goes, she said, "he actively and intentionally observes" the environment and culture, then translates those experiences to his teaching.
Dr. Lorber described recruiting Dr. Fekete as possibly "my most important contribution during the 45 years I served on the Temple faculty.
"In any institution, there are a handful of persons who are the glue that hold the place together, who make it work. People who are capable and selfless, who step up when something needs to be done," he said. "Tom has been one of those people at Temple. You might say he's our Super Glue."
Dr. Fekete's expertise is one reason for that, but it's not the only one.
While working with him over the last six years, Claire Raab, MD, President and CEO of the Temple Faculty Physicians, said she grew to have tremendous respect for Dr. Fekete's compassion.
"Any time I ask you about any issue, your first response is 'It's complicated,'" she said, drawing loud laughter from an audience familiar with the sentiment. "It's not actually always that complicated a situation. But what is complicated is the interpersonal stuff around the ask, and that is always at the forefront of your mind. You are always thinking about how to best support the faculty and your team. You're incredibly mindful of the impact of decisions and how they affect people personally."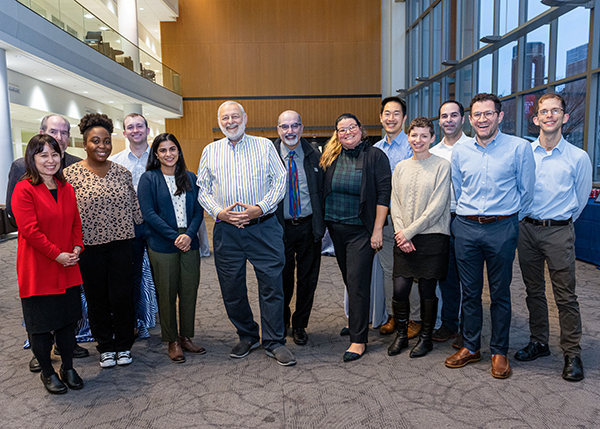 Dr. Clauss, who was recruited by Dr. Fekete, described this trait as generosity.
"No one is kinder or more generous than Dr. Fekete, and nowhere is this more evident than the culture he has created and sustained in the section of Infectious Diseases," she said. "He has fostered an environment of inquiry, intellect, commitment to education, respect, humor, kindness, and joy. It's safe to try things and be wrong in our section. Tom believes this is the best way to learn, and we're all grateful for it."
In a brief speech, Dr. Fekete offered two pieces of advice. The first was to "read broadly" within medicine and beyond. "There's no way you can collect enough information for a lifetime," he said.
"The second thing is, apply yourself outside of Temple because you're not going to believe how amazing you are until someone says, 'Oh, you're from Temple' and then cannot believe what incredible value you bring to their organization," he said. "I think it's such an opportunity to kind of coalesce the things that are already inside of you and return to the world in a different and, hopefully, transformed way."
As can often happen after a meaningful period in one's life, Dr. Fekete marveled at how the last 39 years at once felt like they were "frozen and flying by fast.
"I think all of you would agree there are moments when you think, 'Wait, how did we get to this point?' 'How did we start doing this?' It seems like both a minute ago and forever ago," he said. "I'm so grateful for the opportunity to use this as my home base."
The Thomas Fekete, MD Endowed Lectureship was created to honor Dr. Fekete's legendary impact on the Lewis Katz School of Medicine community. This annual lectureship will be a new resource for our community of residents, faculty, staff and students, and will feature nationally-recognized experts, honoring the outstanding legacy and tremendous impact of Dr. Fekete at Temple. You can make a gift to support the lectureship at giving.temple.edu/feketelecture.