"Innovation Space" Offers Virtual Reality, 3D Printing and More
News
November 17, 2017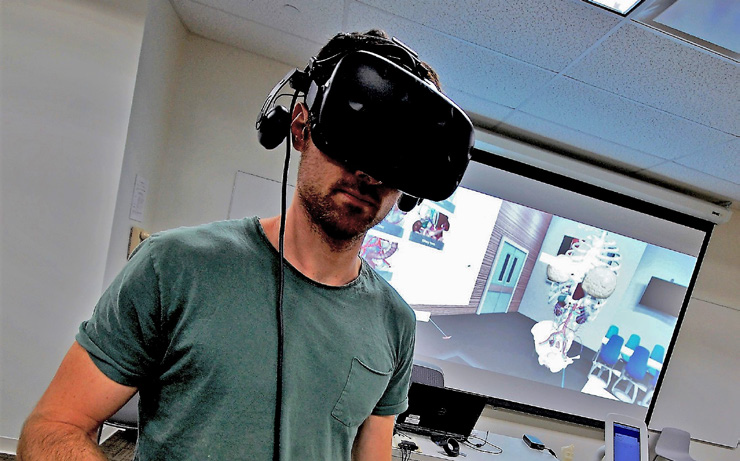 Dylan Vainer, a first-year medical student at the Lewis Katz School of Medicine at Temple University, spent plenty of time looking at the body's abdomen and gastrointestinal system in his gross anatomy class. Using cadavers, Vainer and his classmates got to see and touch the organs, muscles and other structures in the human body.
But after class, Vainer took it a step further: he visited the Ginsburg Health Sciences Library's new Innovation Space, slipped on a HTC Vive virtual reality headset, grabbed the controllers, and stepped into a whole new world.
"A congested area like the abdomen can be hard to visualize in a cadaver because there's so much in that small space," he says. "With the VR system, you get a much clearer picture of where everything is."
Users can select from about 60 different models and toggle between various systems, such as the skeleton, organs, arteries and vessels. The program allows users to take objects apart, move them around, and manipulate the body just by moving their head and hands.
"I use the program to look at whatever we're focusing on or dissecting in the lab that day," Vainer says. "After you pick the organ system you want to study, you can turn the body, walk around it, look down on it from above, move underneath of it, and really control your experience of it."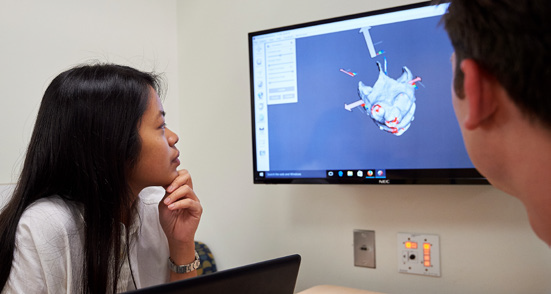 Vainer is one of many who use the library's HTC Vive system each month, according to Patrick Lyons, MLIS, Innovation Librarian in the Ginsburg Health Sciences Library. The anatomy programs have been particularly popular with students.
"Students have been using the 3D Organon models to supplement what they're doing in class, and we've had professors express interest in recording themselves using the program to demonstrate systems to their students," he says.
Other programs available for use with the HTC Vive include a guided meditation application and several games (game days are held on Thursdays and Fridays). Faculty, staff and students are all welcome to try it out.
In addition to the VR equipment, the Innovation Space also offers 3D design software and printing, which is facilitated by specialized laptops and two 3D printers: a Lulzbot TAZ 6 and a Stratasys UPrint SE Plus. Students, faculty and staff can design and print objects related to research, education or patient care, and the first 50 grams of standard filament for such objects are free.
"The Stratus printer can create high-definition prints with dissolvable supports," Lyons says. "We've seen that used by Radiology and Podiatry to replicate fractures in three dimensions. The Lulzbot can print in two different colors and can create bigger objects than we've been able to print in the past."
That can include anything from a tray used to hold worms in a research lab to orthotic insoles. Though 3D-printed objects are not FDA approved for internal use on patients, they can be used to explain a condition or procedure to a patient.
"Faculty members who want to incorporate 3D design and printing into their syllabi are welcome to do so with us," Lyons says. "We're also working with other groups, such as the Digital Scholarship Center on main campus, to extend the range of applications for these tools."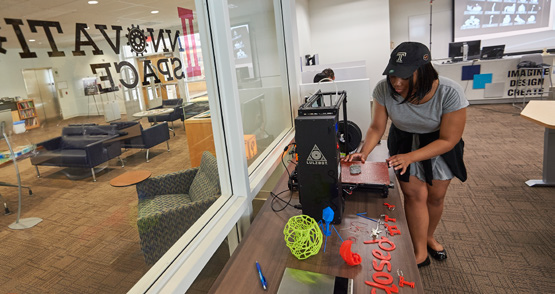 At first glance, 3D printing and virtual reality programs seem to be unrelated. But the same technology and tools that are used to create a 3D-printable model are also used to create a virtual reality program. The only limits on these systems are hardware capabilities, which are improving, and the user's own creativity.
"Three-dimensional printing is a still-emerging technology, so experimentation is needed to make the most of it," Lyons says. "These projects fail or succeed based on the user's ability to think critically and devise original solutions to problems that nobody else has yet solved."
To help users bridge this gap, Lyons makes himself available to students and faculty who want assistance with creating 3D models or virtual reality programs. Starting in November, he will also offer workshops to students and faculty on Intro to 3D Printing and Data Visualization.