He Got His New Heart. How About That Haircut?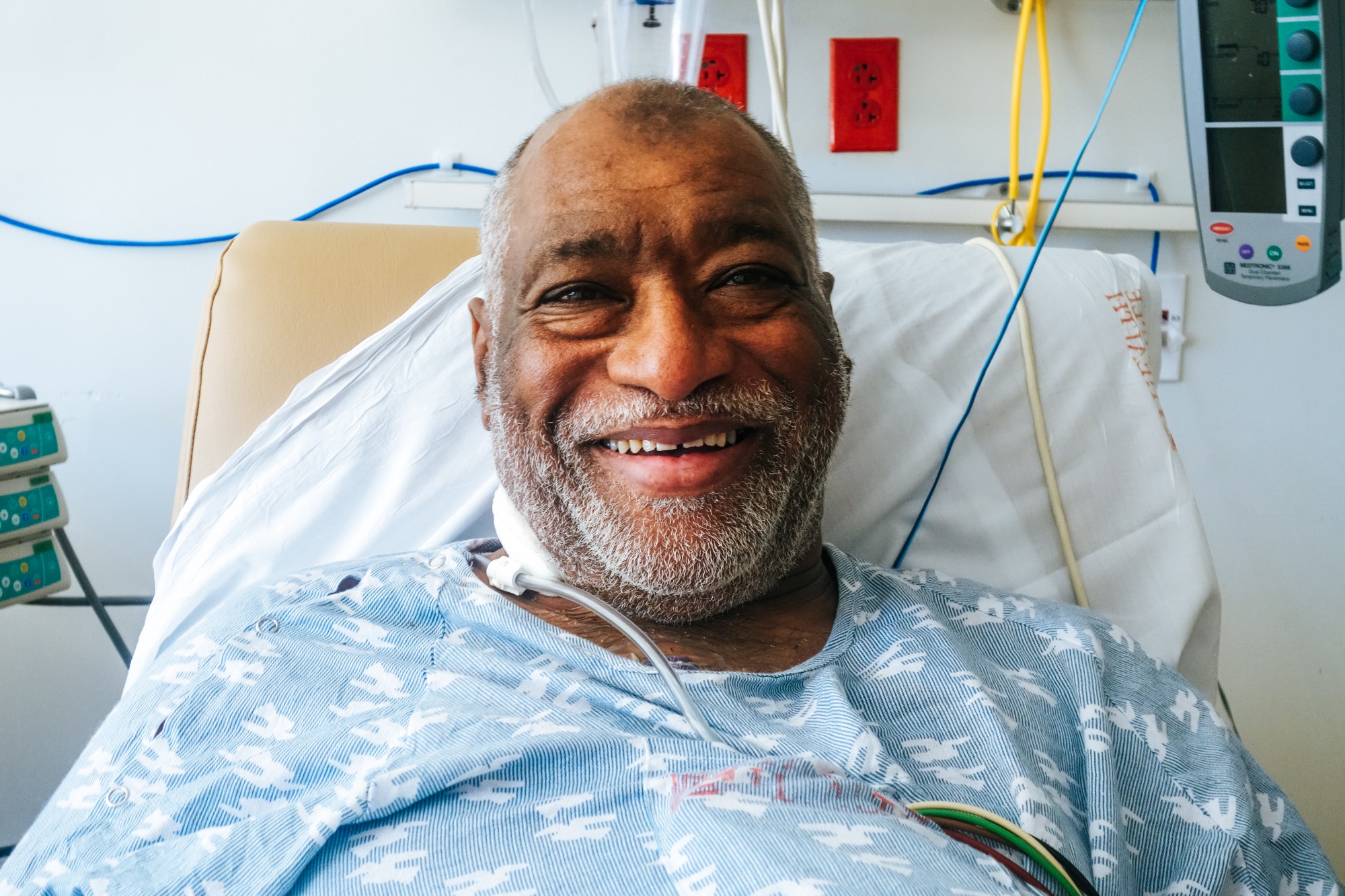 Lee Draper is a happy man following his transplant. Photo by Eric Curran, LKSOM Class of 2020.
By Michael Vitez
Maybe Lee Draper can cut his ponytail now.
He made a pact four years ago with a little boy, Dylan, 12, when they were both waiting for heart transplants at the Gift of Life House in Philadelphia.
Neither one would cut his hair until both got a transplant.
The little boy got his — At CHOP, but died in recovery because his weakened blood vessels couldn't handle the pressure of a healthy heart.
Lee waited for his transplant. And waited. And waited.
Lee, 60 now, had worked in the Sunoco refinery for 30 years and retired to Georgia in 2011. He barely got there when his heart went bad. He came back to Philly and got a mechanical heart at another area hospital, but a blood clot formed in the first six weeks. That almost killed him.
Then he got a second mechanical heart, but got an infection, and was in the hospital forever trying to survive that.
He had complication after complication, including a ventral hernia so big that it made him look pregnant.
At Gift of Life House, Lee and his wife and two children made so many friends, like Dylan, from North Carolina and others from all over the world. Lee cooked barbeque and went fishing with Jimmy Powell of Alabama, his brother from another mother. Everywhere Lee went, even fishing, he lugged the two four-pound battery packs that went with his mechanical heart. That was a sight, Lee and Jimmy standing on a jetty in Avalon, Jimmy with his oxygen tanks and Lee with his battery packs, but both with lines into the sea.
A close up of Lee Draper. Photo taken by Eric Curran, LKSOM Class of 2020.
After 18 months at Gift of Life House, Lee and his wife Teresa and their two kids moved to a home in Berwyn.
A year and a half ago, the hospital where Lee was getting his care took him off the transplant list. "They told him he was too high risk," says Lee's wife, Teresa. "They told us to go home with hospice.
"I wouldn't accept that," she added. "I just knew his organs were still good. The only organ that was bad was his heart."
Teresa Draper was a labor and delivery nurse. When her husband's heart went bad, she switched to cardiac care. She got a job with Gurpreet Kochar, a cardiologist in private practice in Delaware County, and Dr. Kochar became Lee's cardiologist.
Two days after Lee was removed from the transplant list — what Lee calls the lowest moment of his life — Greg Morenko, a key account manager, who calls on physicians to promote Temple's heart and vascular care, stopped into Dr. Kochar's office.
Morenko met with Teresa Draper. Heard the whole story. Made a phone call that afternoon.
That began the process to get Lee listed at Temple.
Lee had many challenges that made him high risk, said Dr. Rene Alvarez, medical director of the transplant program. He was a big man, overweight. He had other health issues, including diabetes. Because of the mechanical heart, he had developed the huge hernia.
Temple was willing to give him a shot.
"We don't get straightforward patients that just need a heart transplant," said Alvarez.. "We do some very sick people who've been turned down from other programs."
"Every center decides the risk that they're willing to take," he added. "We've made the decision that we want to help as many people as possible. We want to extend the envelope as much as possible as long as we can do it safely, and with good outcomes. We have a great team of people."
Temple has highest survival rate after one year of any hospital in the city, at 97 percent, according to the Scientific Registry of Transplant Recipients.
Dr. Alvarez stressed that all the programs in the city help one another, and it's not uncommon for a program to remove a patient from the transplant list if risk factors change.
Lee did what the Temple transplant team asked of him, including losing weight, and about one month ago he went on the list.
On September 23, his wife's birthday, he got his transplant. Dr. Yoshiya Toyoda performed the surgery.
"I woke up in bed and my body was actually rocking from side to side with the new heartbeat," said Lee.
Four days later, during a visit, he was sitting up in a chair, laughing.
"I feel like new money," he said.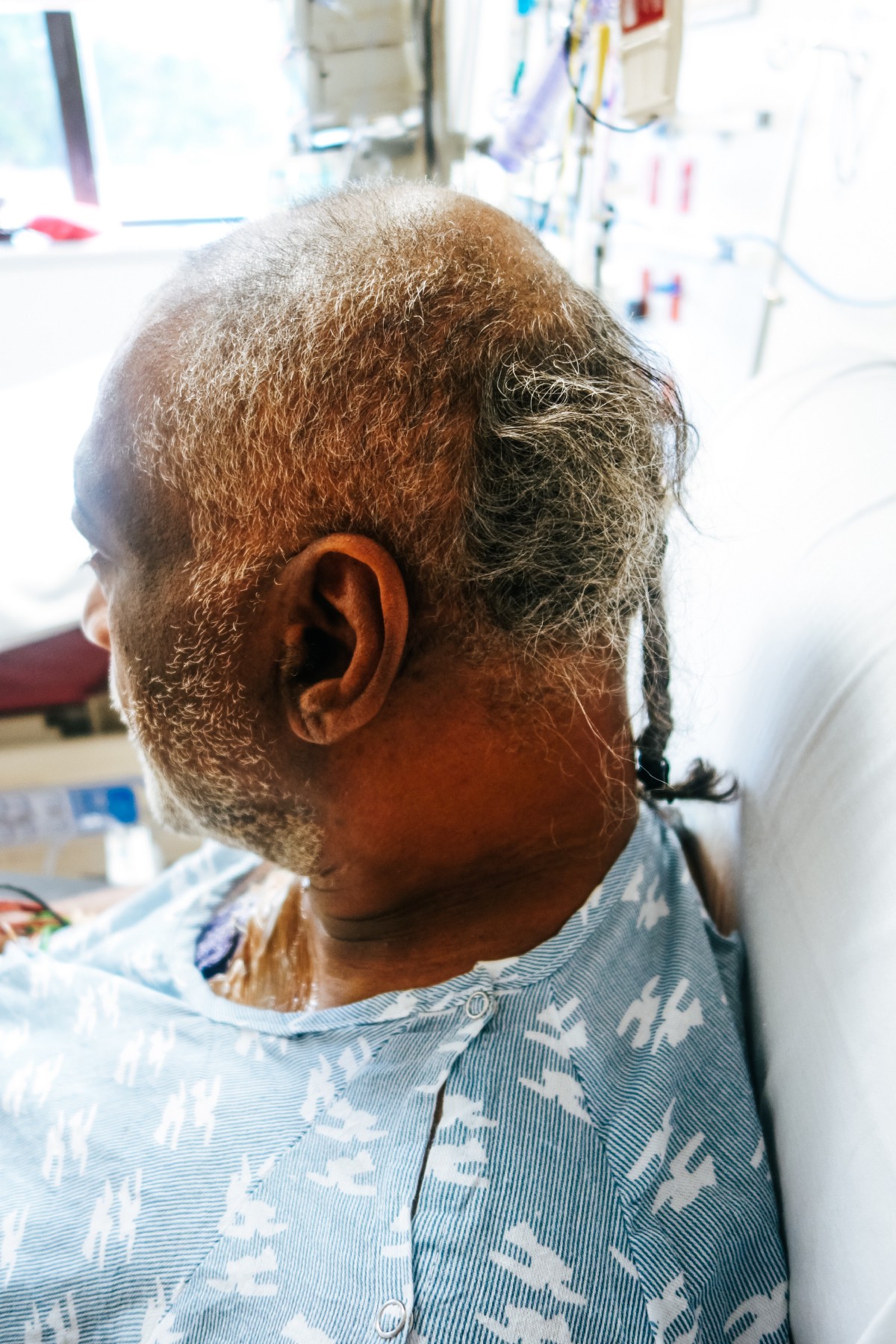 He's doing great," said Dr. Alvarez. "He'll hopefully go home soon. At some point we'll get his hernia."
Morenko, the account manager, had never met Lee, only his wife. But Lee wanted to thank him for his role in making this transplant happen, and asked Morenko to stop by. They visited for half an hour.
"Sales is chasing numbers and helping the company," said Morenko. "Sometimes it's easy to forget about why we do what we do. And when you get to see the impact on a person's life, you can't put a price on that."
Lee's old friend Jimmy Powell is still waiting for a lung-liver transplant and has been through no end of hardships, including cancer treatment.
One of the first people Teresa Draper told about her husband's transplant was little Dylan's mother.
Lee kept his promise, and never cut that ponytail.
He says now, in memory of Dylan, perhaps he never will.
The pony tail that Lee Draper has
grown since he made a promise to a
12-year-old boy, also waiting for a
transplant. Photo by Michael Vitez.
---
Michael Vitez, winner of the 1997 Pulitzer Prize for Explanatory Journalism at The Philadelphia Inquirer, is the director of narrative medicine at the Lewis Katz School of Medicine at Temple University. Michael.vitez@temple.edu