2022 Fall Story Slam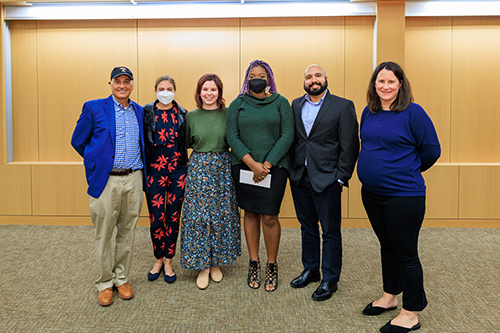 Advice can be profound when it's imparted or learned in the context of medicine and health care. That was made clear by each narrator at the Lewis Katz School of Medicine's 10th annual Narrative Medicine Story Slam on October 12, 2022.
Eight doctors and medical students -- and one instructor with a special role -- explored the night's theme, advice, through five-minute stories that occasionally prompted laughter from the audience, but far more often encouraged reflection.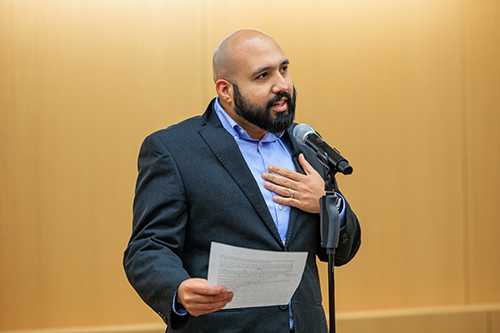 Roschanak Mossabeb, MD, a neonatologist, imagined offering advice to her younger self. Much of it centered on being kinder and gentler. "Practice forgiveness toward others and yourself," she said. "Because not forgiving leads to huge emotional baggage that will wear you down."
Nephrologist Jean Lee, MD, FACP, allowed her recollections of a fellow doctor who seemed too good to be true to  lead her to a place of self-compassion as well. "In my long career, I have learned that we are all more fragile than we appear," she said. "And we are also too hard on ourselves."
Rose Bayer, MD, a third-year Pediatrics resident, pondered her beloved grandfather's influence not only on herself but on those he befriended while stationed in Japan as a surgeon with the United States Army. He nurtured those relationships by reliably writing thoughtful letters. Since his death, his old letters became a way for Dr. Bayer to remain close to him – and find sustained comfort in his wisdom.
Naomi Rosenberg, MD, the Director of the Narrative Medicine program, said she began accompanying her father, also a physician, to the hospital when she was four. "Going to work was a way for me to spend time with my dad on the weekend," she said. He worked seven days a week and very rarely allowed his attention to drift from his sickest patients.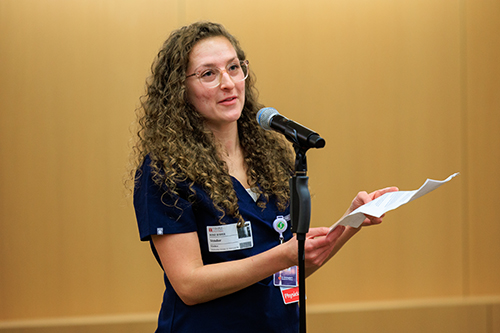 While his work ethic was admirable, even to a four-year-old, it wasn't until years later that she began to understand what compelled him. "He told me, 'One of the greatest challenges in medicine is bringing comfort to those in pain, no matter the situation,'" she said.
This sentiment has forever colored her perspective, both as a doctor and as a mother of twin boys who were delivered prematurely.
After the last story, the audience was asked to select a favorite.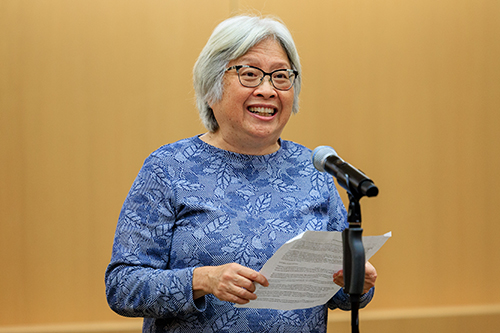 By popular vote, "Untitled," by Katya Ahr, MD, a second-year Internal Medicine resident, was named the winner. Dr. Ahr, who also won the March 2021 Story Slam, confessed to having finished her new winning entry earlier in the evening.   This piece, an untitled poem, masterfully wove together the intimate details of a particularly bad day, a day that ultimately brought to mind a patient, "Shirley," whose gravity and stoicism in the face of death forced Dr. Ahr to confront a difficult truth: Sometimes you need to know when to call it. In Shirley's honor, she wrote:
"And that warrior narrative that hangs around cancer's neck like a padlock
Weight of eternity, a key reserved for only a few promised to many
I'll undo it
I won't let them sell you short.
Because Genevieve, Ellie, Ryan, Janet, Patty, Shirley that white flag never flies here
And there are no battles to be won or lost,
Only peace."
Miranda Haslam, MD, a second-year Surgery resident and the night's runner-up, described a patient with whom she'd become emotionally invested over the course of her many readmissions.
Dr. Haslam surprised many in her circle by choosing surgery as her specialty because she had a reputation for "caring too much," and "the stereotypical surgeon," she wrote, "is sharp like the blade of their scalpel and cool like the surgical steel of the operating room." But in caring for this patient, she realized there is room for both.
"It may be cliché, but I fundamentally believe that caring too much makes me a better doctor," she said. "And, yes, even a better surgeon."
Derlis Fleitas Sosa, MD, a second-year Critical Care fellow who tied for third place with Najya Williams, a second-year medical student, recounted three separate, emotionally charged episodes from his training that taught him to trust his humanity as much as his expertise in his patients' greatest hour of need.
"Sometimes, to listen and to be present is the only thing that we can do for our patients," said Williams, who won last October's Story Slam.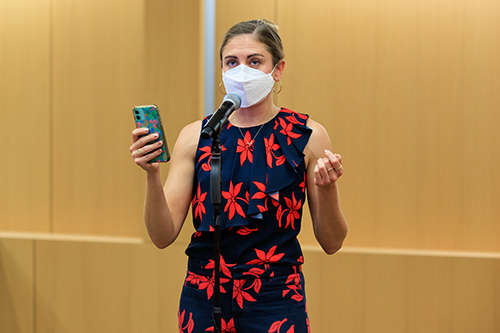 Advice from a 92-year-old patient Williams interviewed in the Emergency Department helped her realize she'd "unconsciously burdened myself with this pressure to be perfect." She understood this weight was the result of not only being the first in her family to go into medicine, but also by wanting to carry her community on her back in doing so.
"In the few fleeting moments I spent with this elderly Black man, who shared a similar southern background to that of my grandmother, the charm and humor of my uncles, the quiet vulnerability and wisdom of my mother, I received the space and permission to exhale," Williams said. "From that day forward, I've committed not to robotic perfection but to whatever my best is in the moment."
For the first time, Michael Vitez, the former Director of the Narrative Medicine program and now its Assistant Director, participated as a storyteller, going last.
He read from a journalism internship rejection letter he'd had framed. "Devastating" as it was at the time, it empowered him to commit to journalism in a manner he might not have otherwise.
Twenty years later, as a staff writer at The Philadelphia Inquirer, Vitez won a Pulitzer Prize for a groundbreaking series of end-of-life narratives.  That rejection letter was filled with some "advice" that was a bitter pill to accept as a college journalist, but proved so valuable in the long run. Like storytelling, advice can be very powerful.