Temple's Dr. Laurie Kilpatrick Is the New President-Elect of the Shock Society
POSTED ON
June 10, 2019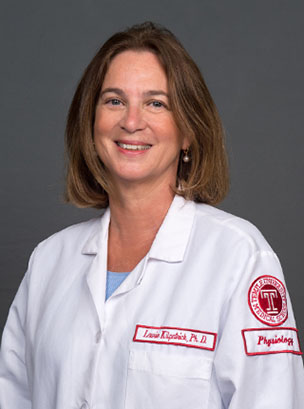 Laurie E. Kilpatrick, PhD, Professor in the Center for Inflammation, Translational and Clinical Lung Research in the Department of Thoracic Medicine and Surgery, the Sol Sherry Thrombosis Research Center, and Department of Physiology at the Lewis Katz School of Medicine at Temple University (LKSOM), has been elected to serve as president-elect of the Shock Society.
Dr. Kilpatrick's one-year term as president-elect runs through June 2020, after which her one-year term as president will run until June 2021.
The Shock Society was founded in 1977 in Chicago, Illinois, with the goal of improving the care of those with trauma, shock, and sepsis by promoting clinically relevant research into the basic biology of trauma, shock, and sepsis and by providing a multidisciplinary forum to integrate and disseminate new knowledge in trauma, shock, and sepsis. The Shock Society is composed of both medical professionals and researchers from across North America.
Dr. Kilpatrick's research focuses on vascular inflammation in sepsis and the regulation of leukocyte-endothelial interactions, the role of immune cell phenotypes in disease pathology, and novel therapeutic approaches to modulate inflammation. She has a particular interest in acute lung injury and acute respiratory distress syndrome.
Dr. Kilpatrick has been at LKSOM since 2009. She earned her PhD in biochemistry/biophysics from the University of Pennsylvania and completed a postdoctoral fellowship in pharmacology there. She is currently a member of the National Institutes of Health Surgery, Anesthesiology and Trauma (SAT) Study Section (2015-2021). She has been a member of the Shock Society for more than 30 years, where she has served in a range of roles. She is presently a member of the editorial board for the journal SHOCK, serves on the task forces for the Shock Journal and the Shock/Surgical Infection Society Meeting, is Chair of the Scientific Program Committee, and also is the 2019 Program Chair for the 42nd Annual Conference on Shock.