Amazing Women in LKSOM's History
News
March 26, 2021
L-R: Harriet Hartley, MD, FAPHA, Mona Spiegel-Adolf, MD, Elsie Carrington, MD '41, MS '49 and Marie Valdes-Dalpena, MD '44. 
In honor of Women's History Month, we celebrate women's contributions to medicine – including  women who blazed trails at the Lewis Katz School of Medicine (LKSOM) at Temple University.
In 1901, when LKSOM was founded, women in medicine were a scarcity. Nevertheless, women contributed to teaching and research in LKSOM's early days. Among them were: Jennie Adams (Pharmacognosy, 1907); Mary Shepherd, MD (Anatomy, 1907); and E. Olivia White, MD (Applied Surgical Anatomy, 1916).
In 1924, someone very impressive joined the school's faculty: Harriet Hartley, MD, FAPHA. In addition to serving as Professor of Preventive Medicine, Hygiene and Public Health at LKSOM for 25 years, Dr. Hartley maintained her job as Chief of Philadelphia's Division of Child Health (1917-1946) and was President of the Pennsylvania Public Health Association in the 1940s. Truly ahead of her time in recognizing the social determinants of health, she made major contributions to maternal and child welfare in Philadelphia – and beyond. 
In 1930, a brilliant colloid chemist named Mona Spiegel-Adolf, MD, came to LKSOM. Primarily, she received her faculty appointment as part of a package deal with her husband, Ernest Spiegel, MD. He became famous for developing stereotactic surgery at LKSOM in the 1940s -- but she was an eminent scientist and scholar in her own right. She headed LKSOM's Physical and Colloid Chemistry Department until 1966, published a book on X-ray diffraction studies in biology, and contributed to our understanding of proteins, lipids, and cancer. It's likely she also contributed greatly to her husband's success, too. It could be a similar story for Catherine Bacon, MD, an LKSOM Psychiatry faculty member in the 1950s.  
An expert in psychosomatic medicine (which has its roots at Temple), Dr. Bacon was well-published and highly regarded – but true fame came to a student she had mentored at Penn: Aaron T. Beck, MD, the "Father of Cognitive Behavioral Therapy." Dr. Bacon taught Dr. Beck when he was a resident – and she was also his personal analyst. How much or little she influenced his theories, we may never know. But one thing is certain: the contributions of woman to science are incalculable – and have been essential to LKSOM since its earliest days. 
Three fascinating LKSOM faculty in the 1940s through 1960s were Elsie Carrington, MD '41, MS '49; Marie Valdes-Dalpena, MD '44; and Irena Koprowska, MD.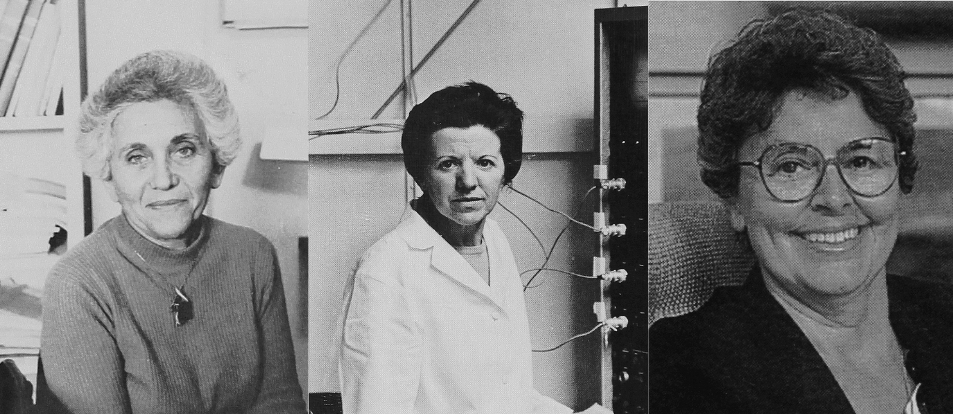 L-R: Irena Koprowska, MD, Concetta Harakal, PhD '62 and Dawn B. Marks, PhD. 
Dr. Carrington was a nationally known expert on diabetes during pregnancy. She was also co-editor of the obstetrics/gynecology "bible" through nine editions, Obstetrics and Gynecology.
Dr. Valdes-Dalpena, MD, was a world authority on sudden infant death syndrome.
And Dr. Koprowska was a pioneer in cytopathology, a mentee of George Papanicolaou, MD, inventor of the Pap test. In addition to teaching and conducting research, she headed the cytology lab at Temple University Hospital for years.
Three amazing professionals who joined the faculty in the 1970s were Shirley Tilghman, PhD '75; Mary Stuart Fisher, MD, and Concetta Harakal, PhD '62. 
Dr. Tilghman, a molecular biologist, launched her remarkable career at LKSOM and later  became Princeton University's first female president, in 2001.
Dr. Harakal (Pharmacology), an elected life member of the American Association for the Advancement of Science, devoted 50 years to LKSOM -- and Dr. Fisher (Radiology), devoted 30 years.
Notably, Drs. Fisher and Harakal taught John M. Daly, MD '73, FASC, Dean of LKSOM, when he was a medical student at LKSOM in the 1970s – and they were still teaching in 2003, when he came back as dean the first time (he's now dean again).
Dawn B. Marks, PhD (1980s and 1990s) was another excellent faculty member --  beloved for her devotion to students and to science, with two best-selling scientific texts to her credit. 
Shirley Tilghman, PhD '75 and Mary Stuart Fisher, MD
"I am proud that LKSOM admitted women to medical school 12 years before Penn and 60 years before Jefferson, proud that LKSOM employed women as full professors a century ago , while Hahnemann Medical College, for example, didn't until 1964. Likewise, I applaud Temple's status as a signatory member of Times Up Healthcare," says Dean Daly.
"Women's History Month presents an opportunity for us to celebrate all of these things. It also reminds us to focus on the road we must travel toward gender equity," he says. 
According to the AAMC report State of Women in Academic Medicine, 2018-19, women comprise nearly half of recent medical school graduates, but just 25 % of full professors and 18 % of department chairs at our nation's medical schools. And the number from underrepresented backgrounds has increased only 1 % in the past decade. 
"Clearly we have important work to do," Daly says. "Let's do more than applaud women. Let's join them in women's advocacy. I encourage everyone to identify ways to support the progress forged by LKSOM's Committee on the Status of Women Faculty.  And one last thing:  don't forget to thank the women who've been part of your personal success. We all have many. " 
This story celebrates several women in LKSOM history. Learn about some of the amazing women on LKSOM's faculty today.
Photo Credit: Images courtesy of the Special Collections Research Center, Temple University Library